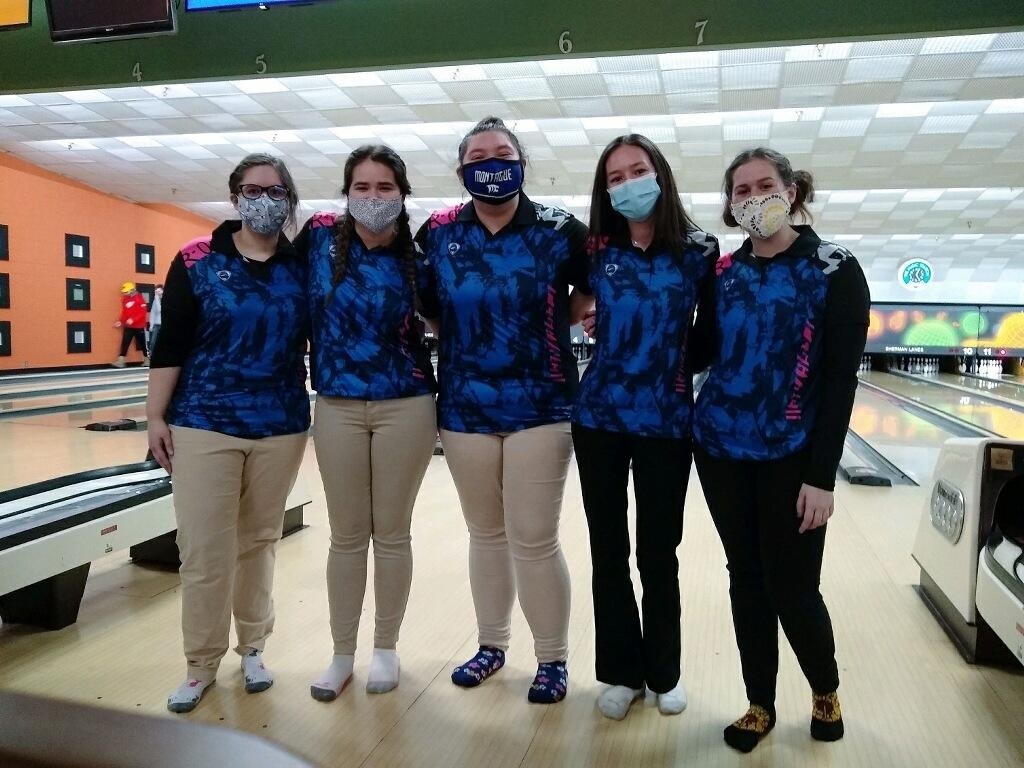 Welcome to Montague High School
Calendar

‹

January

2021

›

S
M
T
W
T
F
S
1

Jan 1

No School - Christmas Break

2
3
4
5
6

Jan 6

6:00 AM to 9:00 AM

Girls Varsity Competitive Cheer @ Ravenna High School

Location:

2766 S Ravenna Rd, Ravenna Michigan 49451-9588

Sport: Competitive Cheer Level: Girls Varsity Team: Montague High School Site: Ravenna High School Subsite: H.S. Comp gym

7
8

Jan 8

12:00 PM to 2:30 PM

MASA Region 3 Meeting in Person

5:30 PM to 7:00 PM

Boys JV Basketball vs North Muskegon High School

Location:

4900 Stanton Blvd, Montague Michigan 49437-1098

Sport: Basketball Level: Boys JV Team: Montague High School Site: Montague High School Subsite: Gym

9

Jan 9

1:00 PM to 3:00 PM

Boys Varsity Football vs Montrose Hill-McCloy High School

Location:

4900 Stanton Blvd, Montague Michigan 49437-1098

Sport: Football Level: Boys Varsity Team: Montague High School Site: Montague High School Subsite: Stadium

10
11

Jan 11

6:00 PM to 7:00 PM

Regular Board Meeting

Calendar:

Board of Education

12
13
14
15
16

Jan 16

1:00 PM to 3:00 PM

Boys Varsity Football vs Grayling High School

Location:

4900 Stanton Blvd, Montague Michigan 49437-1098

Sport: Football Level: Boys Varsity Team: Montague High School Site: Montague High School Subsite: Stadium

17
18

Jan 18

5:30 PM to 6:45 PM

Girls JV Basketball vs North Muskegon High School

Location:

4900 Stanton Blvd, Montague Michigan 49437-1098

Sport: Basketball Level: Girls JV Team: Montague High School Site: Montague High School Subsite: Gym

19
20

Jan 20

5:00 PM to 9:30 PM

Boys Varsity Wrestling @ Hart High School

Location:

300 Johnson St W, Hart MI 49420-1099

Sport: Wrestling Level: Boys Varsity Team: Montague High School Site: Hart High School Subsite: Gym

6:00 PM to 9:00 PM

Girls Varsity Competitive Cheer @ Whitehall High School

Location:

3100 White Lake Drive, Whitehall Michigan 49461-1100

Sport: Competitive Cheer Level: Girls Varsity Team: Montague High School Site: Whitehall High School Subsite: Gym

21
22
23

Jan 23

1:00 PM to 1:30 PM

Girls JV Basketball vs Shelby High School

Location:

4900 Stanton Blvd, Montague Michigan 49437-1098

Sport: Basketball Level: Girls JV Team: Montague High School Site: Montague High School Subsite: Gym

2:30 PM to 4:00 PM

Girls Varsity Basketball vs Shelby High School

Location:

4900 Stanton Blvd, Montague Michigan 49437-1098

Sport: Basketball Level: Girls Varsity Team: Montague High School Site: Montague High School Subsite: Gym

24
25

Jan 25

10:00 AM to 12:00 PM

Boys Varsity Bowling

Location:

(unknown) (unknown), (unknown) (unknown) (unknown)

Sport: Bowling Level: Boys Varsity Team: Montague High School Site: TBA

3:00 PM to 5:00 PM

Girls Varsity Bowling @ Whitehall High School

Location:

3100 White Lake Drive, Whitehall Michigan 49461-1100

Sport: Bowling Level: Girls Varsity Team: Montague High School Site: Whitehall High School Subsite: Northway Lanes

5:30 PM to 7:00 PM

Girls JV Basketball @ Ravenna High School

Location:

2766 S Ravenna Rd, Ravenna Michigan 49451-9588

Sport: Basketball Level: Girls JV Team: Montague High School Site: Ravenna High School Subsite: H.S. Comp gym

7:00 PM to 8:30 PM

Boys Varsity Basketball vs North Muskegon High School

Location:

4900 Stanton Blvd, Montague Michigan 49437-1098

Sport: Basketball Level: Boys Varsity Team: Montague High School Site: Montague High School Subsite: Gym

7:00 PM to 8:30 PM

Girls Varsity Basketball @ Ravenna High School

Location:

2766 S Ravenna Rd, Ravenna Michigan 49451-9588

Sport: Basketball Level: Girls Varsity Team: Montague High School Site: Ravenna High School Subsite: H.S. Comp gym

26

Jan 26

5:30 PM to 6:45 PM

Boys JV Basketball vs Mason Co Central High School

Location:

4900 Stanton Blvd, Montague Michigan 49437-1098

Sport: Basketball Level: Boys JV Team: Montague High School Site: Montague High School Subsite: Gym

6:00 PM to 7:30 PM

Girls JV Basketball @ Oakridge High School

Location:

5493 East Hall Rd, Muskegon Michigan 49442-3096

Sport: Basketball Level: Girls JV Team: Montague High School Site: Oakridge High School Subsite: Gym

7:00 PM to 8:30 PM

Boys Varsity Basketball vs Mason Co Central High School

Location:

4900 Stanton Blvd, Montague Michigan 49437-1098

Sport: Basketball Level: Boys Varsity Team: Montague High School Site: Montague High School Subsite: Gym

7:30 PM to 9:00 PM

Girls Varsity Basketball @ Oakridge High School

Location:

5493 East Hall Rd, Muskegon Michigan 49442-3096

Sport: Basketball Level: Girls Varsity Team: Montague High School Site: Oakridge High School Subsite: Gym

27

Jan 27

3:15 PM to 5:15 PM

Boys Varsity Bowling vs Whitehall High School

Location:

4900 Stanton Blvd, Montague Michigan 49437-1098

Sport: Bowling Level: Boys Varsity Team: Montague High School Site: Montague High School

3:30 PM to 4:30 PM

Girls Varsity Bowling

Location:

1751 Evanston Avenue, Muskegon Michigan 49442

Sport: Bowling Level: Girls Varsity Team: Montague High School Site: Northway Lanes Subsite: Northway Lanes

5:00 PM to 8:30 PM

Boys Varsity Wrestling vs Mason Co Central High School

Location:

4900 Stanton Blvd, Montague Michigan 49437-1098

Sport: Wrestling Level: Boys Varsity Team: Montague High School Site: Montague High School Subsite: Gym

6:00 PM to 8:00 PM

Girls Varsity Competitive Cheer @ Shelby High School

Location:

641 N. State Street, Shelby Michigan 49455

Sport: Competitive Cheer Level: Girls Varsity Team: Montague High School Site: Shelby High School Subsite: Gym

28
29

Jan 29

6:00 PM to 7:00 PM

Girls JV Basketball @ Mason Co Central High School

Location:

300 W Broadway St, Scottville Michigan 49454-1095

Sport: Basketball Level: Girls JV Team: Montague High School Site: Mason Co Central High School Subsite: Gym

7:30 PM to 9:00 PM

Girls Varsity Basketball @ Mason Co Central High School

Location:

300 W Broadway St, Scottville Michigan 49454-1095

Sport: Basketball Level: Girls Varsity Team: Montague High School Site: Mason Co Central High School Subsite: Gym

30

Jan 30

9:00 AM to 6:00 PM

Boys Varsity Wrestling vs Hudsonville High School

Location:

4900 Stanton Blvd, Montague Michigan 49437-1098

Sport: Wrestling Level: Boys Varsity Team: Montague High School Site: Montague High School Subsite: Gym

3:30 PM to 5:00 PM

Boys JV Basketball vs Orchard View High School

Location:

4900 Stanton Blvd, Montague Michigan 49437-1098

Sport: Basketball Level: Boys JV Team: Montague High School Site: Montague High School Subsite: Gym

5:00 PM to 6:30 PM

Boys Varsity Basketball vs Orchard View High School

Location:

4900 Stanton Blvd, Montague Michigan 49437-1098

Sport: Basketball Level: Boys Varsity Team: Montague High School Site: Montague High School Subsite: Gym

31
MHS News
STATE FOOTBALL SEMI-FINALS
Montague Vs Grayling Football Game Live Stream
In order to watch the live stream of our MHSAA semi-final game this Saturday, it is required by the MHSAA and the National Federation of State High Schools that we use the NFHS Network. Please click on the link below to sign up to view this game. 
https://www.nfhsnetwork.com/events/montague-high-school-montague-mi/gam8b15f1ac20
There are numerous benefits to subscribing to the NFHS Network. One benefit is that our school will receive a portion of every subscription that is sold. A second benefit is that the NFHS Network will broadcast all of our home MHS winter contests. By having a subscription, you can now watch any high school contests in the US that use the NFHS Network. Several members of the West Michigan Conference currently have this system as well.
GO WILDCATS!
SENIOR PICTURE SUBMISSION
Seniors: Did you check your email for a message from Mr. Patton? It has a Google Classroom code to join a Yearbook Seniors group. There you will be able to upload senior pics, vote for mock elections, and share other info for our publication.
Senior Pictures are due by January 22nd (the end of first semester). Please join the Google Classroom called Yearbook Seniors and upload your high resolution photos there, or you may send them directly to Ms. Phipps via email. Print copies can also be scanned if you do not have a high resolution JPEG file to share.