Upcoming Events
Calendar

‹

February

2019

›

S
M
T
W
T
F
S
1
2

Feb 2

10:00 AM to 12:00 PM

Competitive Cheer vs Fruitport

Location:

Fruitport High School

This event has a Google Hangouts video call. Join: https://hangouts.google.com/hangouts/_/mapsk12.org/raethk?hceid=bWFwc2sxMi5vcmdfOTg2b3Nmb20yY3BwdHRxOWd1cnVzNzhrNjBAZ3JvdXAuY2FsZW5kYXIuZ29vZ2xlLmNvbQ.0jo5ss2v4l913cp8vk748nh33b&hs=121

3
4

Feb 4

This event has a Google Hangouts video call. Join: https://hangouts.google.com/hangouts/_/mapsk12.org/drama-rehearsal?hceid=bWFwc2sxMi5vcmdfNjF0bGl1dm8zaHNqbnNuNjJzYTUzaG5rMXNAZ3JvdXAuY2FsZW5kYXIuZ29vZ2xlLmNvbQ.6dmen9j5ar6framus8eifj4uej&hs=121

6:00 PM to 7:00 PM

Special Board Meeting

Location:

Central Office Conference Room

Calendar:

Board of Education

5

Feb 5

This event has a Google Hangouts video call. Join: https://hangouts.google.com/hangouts/_/mapsk12.org/drama-rehearsal?hceid=bWFwc2sxMi5vcmdfNjF0bGl1dm8zaHNqbnNuNjJzYTUzaG5rMXNAZ3JvdXAuY2FsZW5kYXIuZ29vZ2xlLmNvbQ.6dmen9j5ar6framus8eifj4uej&hs=121

4:00 PM to 5:00 PM

MS Volleyball @ Home vs. MCC

5:30 PM to 7:00 PM

Boys JV Bball vs Orchard View

Location:

Montague High School, 4900 Stanton Blvd, Montague, MI 49437, USA

5:30 PM to 7:00 PM

Girls JV Bball vs North Muskegon

Location:

North Muskegon High School

North Muskegon High School

7:00 PM to 9:00 PM

Boys Varsity Bball vs Orchard View

Location:

Montague High School, 4900 Stanton Blvd, Montague, MI 49437, USA

7:00 PM to 9:00 PM

Girls Varsity Bball vs North Muskegon

Location:

North Muskegon High School

North Muskegon High School

6

Feb 6

This event has a Google Hangouts video call. Join: https://hangouts.google.com/hangouts/_/mapsk12.org/drama-rehearsal?hceid=bWFwc2sxMi5vcmdfNjF0bGl1dm8zaHNqbnNuNjJzYTUzaG5rMXNAZ3JvdXAuY2FsZW5kYXIuZ29vZ2xlLmNvbQ.6dmen9j5ar6framus8eifj4uej&hs=121

Early Release - All Buildings Release 1 Hour Early

This event has a Google Hangouts video call. Join: https://hangouts.google.com/hangouts/_/mapsk12.org/early-release?hceid=bWFwc2sxMi5vcmdfc2pxY3JpcjdvNG1uMXQyYTcxODJvNzRzYm9AZ3JvdXAuY2FsZW5kYXIuZ29vZ2xlLmNvbQ.7j3n900ktr37f0oai25q45r3p9&hs=121

6:00 PM to 9:00 PM

Competitive Cheer vs Ravenna

Location:

Montague High School

Ravenna High School and 4 others

7

Feb 7

This event has a Google Hangouts video call. Join: https://hangouts.google.com/hangouts/_/mapsk12.org/drama-rehearsal?hceid=bWFwc2sxMi5vcmdfNjF0bGl1dm8zaHNqbnNuNjJzYTUzaG5rMXNAZ3JvdXAuY2FsZW5kYXIuZ29vZ2xlLmNvbQ.6dmen9j5ar6framus8eifj4uej&hs=121

This event has a Google Hangouts video call. Join: https://hangouts.google.com/hangouts/_/mapsk12.org/greenwoode?hceid=bWFwc2sxMi5vcmdfNjF0bGl1dm8zaHNqbnNuNjJzYTUzaG5rMXNAZ3JvdXAuY2FsZW5kYXIuZ29vZ2xlLmNvbQ.0rh4v5h841ilijpvq1vcpe7nd1&hs=121

4:00 PM to 5:00 PM

4:00 PM to 5:00 PM

8

Feb 8

This event has a Google Hangouts video call. Join: https://hangouts.google.com/hangouts/_/mapsk12.org/drama-rehearsal?hceid=bWFwc2sxMi5vcmdfNjF0bGl1dm8zaHNqbnNuNjJzYTUzaG5rMXNAZ3JvdXAuY2FsZW5kYXIuZ29vZ2xlLmNvbQ.6dmen9j5ar6framus8eifj4uej&hs=121

2:00 PM to 3:00 PM

This event has a Google Hangouts video call. Join: https://hangouts.google.com/hangouts/_/mapsk12.org/gormand?hceid=bWFwc2sxMi5vcmdfNjF0bGl1dm8zaHNqbnNuNjJzYTUzaG5rMXNAZ3JvdXAuY2FsZW5kYXIuZ29vZ2xlLmNvbQ.450nu09etuhkg1sv9rc8i7pgmk&hs=121

5:30 PM to 7:00 PM

Girls JV Bball vs Shelby

Location:

Montague High School

7:00 PM to 9:00 PM

Girls Varsity Bball vs Shelby

Location:

Montague High School

9

Feb 9

This event has a Google Hangouts video call. Join: https://hangouts.google.com/hangouts/_/mapsk12.org/drama-rehearsal?hceid=bWFwc2sxMi5vcmdfNjF0bGl1dm8zaHNqbnNuNjJzYTUzaG5rMXNAZ3JvdXAuY2FsZW5kYXIuZ29vZ2xlLmNvbQ.6dmen9j5ar6framus8eifj4uej&hs=121

8:00 AM to 9:00 AM

High School Solo Ensemble

This event has a Google Hangouts video call. Join: https://hangouts.google.com/hangouts/_/mapsk12.org/high-school?hceid=bWFwc2sxMi5vcmdfNjF0bGl1dm8zaHNqbnNuNjJzYTUzaG5rMXNAZ3JvdXAuY2FsZW5kYXIuZ29vZ2xlLmNvbQ.4n63gib2n7a8qc6q7otba45cij&hs=121

9:00 AM to 3:00 PM

Wrestling

Location:

Orchard View High School, 16 N Quarterline Rd, Muskegon, MI 49442, USA

This event has a Google Hangouts video call. Join: https://hangouts.google.com/hangouts/_/mapsk12.org/raethk?hceid=bWFwc2sxMi5vcmdfOTg2b3Nmb20yY3BwdHRxOWd1cnVzNzhrNjBAZ3JvdXAuY2FsZW5kYXIuZ29vZ2xlLmNvbQ.4seb1nsgppog9eq1b3782lkqfu&hs=121

10

Feb 10

This event has a Google Hangouts video call. Join: https://hangouts.google.com/hangouts/_/mapsk12.org/drama-rehearsal?hceid=bWFwc2sxMi5vcmdfNjF0bGl1dm8zaHNqbnNuNjJzYTUzaG5rMXNAZ3JvdXAuY2FsZW5kYXIuZ29vZ2xlLmNvbQ.6dmen9j5ar6framus8eifj4uej&hs=121

11

Feb 11

This event has a Google Hangouts video call. Join: https://hangouts.google.com/hangouts/_/mapsk12.org/drama-rehearsal?hceid=bWFwc2sxMi5vcmdfNjF0bGl1dm8zaHNqbnNuNjJzYTUzaG5rMXNAZ3JvdXAuY2FsZW5kYXIuZ29vZ2xlLmNvbQ.6dmen9j5ar6framus8eifj4uej&hs=121

5:00 PM to 8:30 PM

Varsity Wrestling Districts vs Shelby

Location:

Shelby High School, 641 N State St, Shelby, MI 49455, USA

This event has a Google Hangouts video call. Join: https://hangouts.google.com/hangouts/_/mapsk12.org/raethk?hceid=bWFwc2sxMi5vcmdfOTg2b3Nmb20yY3BwdHRxOWd1cnVzNzhrNjBAZ3JvdXAuY2FsZW5kYXIuZ29vZ2xlLmNvbQ.1l19q9cs4b1ukhrjab9sbqnv20&hs=121

5:30 PM to 7:00 PM

Boys JV Bball vs Whitehall

Location:

Whitehall High School

6:00 PM to 7:00 PM

Regular Board Meeting

Calendar:

Board of Education

6:00 PM to 7:30 PM

Girls JV Bball vs Mason CC

Location:

Mason Co Central High School

Mason Co Central High School

7:00 PM to 9:00 PM

Boys Varsity Bball vs Whitehall

Location:

Whitehall High School

7:30 PM to 9:30 PM

Girls Varsity Bball vs Mason CC

Location:

Mason Co Central High School

Mason Co Central High School

12

Feb 12

This event has a Google Hangouts video call. Join: https://hangouts.google.com/hangouts/_/mapsk12.org/drama-rehearsal?hceid=bWFwc2sxMi5vcmdfNjF0bGl1dm8zaHNqbnNuNjJzYTUzaG5rMXNAZ3JvdXAuY2FsZW5kYXIuZ29vZ2xlLmNvbQ.6dmen9j5ar6framus8eifj4uej&hs=121

4:00 PM to 5:00 PM

MS Volleyball @ Home vs. Shelby

4:00 PM to 5:00 PM

13

Feb 13

This event has a Google Hangouts video call. Join: https://hangouts.google.com/hangouts/_/mapsk12.org/drama-rehearsal?hceid=bWFwc2sxMi5vcmdfNjF0bGl1dm8zaHNqbnNuNjJzYTUzaG5rMXNAZ3JvdXAuY2FsZW5kYXIuZ29vZ2xlLmNvbQ.6dmen9j5ar6framus8eifj4uej&hs=121

Early Release - All Buildings Release 1 Hour Early

This event has a Google Hangouts video call. Join: https://hangouts.google.com/hangouts/_/mapsk12.org/early-release?hceid=bWFwc2sxMi5vcmdfc2pxY3JpcjdvNG1uMXQyYTcxODJvNzRzYm9AZ3JvdXAuY2FsZW5kYXIuZ29vZ2xlLmNvbQ.7j3n900ktr37f0oai25q45r3p9&hs=121

1:30 PM to 2:30 PM

This event has a Google Hangouts video call. Join: https://hangouts.google.com/hangouts/_/mapsk12.org/ffa-regional?hceid=bWFwc2sxMi5vcmdfNjF0bGl1dm8zaHNqbnNuNjJzYTUzaG5rMXNAZ3JvdXAuY2FsZW5kYXIuZ29vZ2xlLmNvbQ.4k90ao5i8k2itmvp2bcb48slbs&hs=121

5:30 PM to 7:00 PM

Boys JV Bball vs North Muskegon

Location:

North Muskegon High School

North Muskegon High School

7:00 PM to 9:00 PM

Boys Varsity Bball vs North Muskegon

Location:

North Muskegon High School

North Muskegon High School

14

Feb 14

This event has a Google Hangouts video call. Join: https://hangouts.google.com/hangouts/_/mapsk12.org/drama-rehearsal?hceid=bWFwc2sxMi5vcmdfNjF0bGl1dm8zaHNqbnNuNjJzYTUzaG5rMXNAZ3JvdXAuY2FsZW5kYXIuZ29vZ2xlLmNvbQ.6dmen9j5ar6framus8eifj4uej&hs=121

2:45 PM to 3:45 PM

Middle School Wrestling Pictures

4:00 PM to 5:00 PM

Home MS Wrestling Meet vs. Shelby and Ravenna

Location:

NBC Middle School

4:00 PM to 5:00 PM

MS Volleyball @ N. Muskegon

6:00 PM to 7:30 PM

Girls JV Bball vs Hart

Location:

Hart High School

7:30 PM to 9:30 PM

Girls Varsity Bball vs Hart

Location:

Hart High School

15

Feb 15

This event has a Google Hangouts video call. Join: https://hangouts.google.com/hangouts/_/mapsk12.org/drama-rehearsal?hceid=bWFwc2sxMi5vcmdfNjF0bGl1dm8zaHNqbnNuNjJzYTUzaG5rMXNAZ3JvdXAuY2FsZW5kYXIuZ29vZ2xlLmNvbQ.6dmen9j5ar6framus8eifj4uej&hs=121

No School - Mid-Winter Break

This event has a Google Hangouts video call. Join: https://hangouts.google.com/hangouts/_/mapsk12.org/no-school-mid?hceid=bWFwc2sxMi5vcmdfc2pxY3JpcjdvNG1uMXQyYTcxODJvNzRzYm9AZ3JvdXAuY2FsZW5kYXIuZ29vZ2xlLmNvbQ.7884cc4gl1g1a15ocsbg48umuf&hs=121

5:30 PM to 7:00 PM

Boys JV Bball vs Shelby

Location:

Montague High School

6:00 PM to 8:00 PM

Competitive Cheer Districts

Location:

Comstock Park High School

This event has a Google Hangouts video call. Join: https://hangouts.google.com/hangouts/_/mapsk12.org/raethk?hceid=bWFwc2sxMi5vcmdfOTg2b3Nmb20yY3BwdHRxOWd1cnVzNzhrNjBAZ3JvdXAuY2FsZW5kYXIuZ29vZ2xlLmNvbQ.6via5msfvp88mv7nnce0t05sro&hs=121

7:00 PM to 9:00 PM

Boys Varsity Bball vs Shelby

Location:

Montague High School

16

Feb 16

This event has a Google Hangouts video call. Join: https://hangouts.google.com/hangouts/_/mapsk12.org/drama-rehearsal?hceid=bWFwc2sxMi5vcmdfNjF0bGl1dm8zaHNqbnNuNjJzYTUzaG5rMXNAZ3JvdXAuY2FsZW5kYXIuZ29vZ2xlLmNvbQ.6dmen9j5ar6framus8eifj4uej&hs=121

No School - Mid-Winter Break

This event has a Google Hangouts video call. Join: https://hangouts.google.com/hangouts/_/mapsk12.org/no-school-mid?hceid=bWFwc2sxMi5vcmdfc2pxY3JpcjdvNG1uMXQyYTcxODJvNzRzYm9AZ3JvdXAuY2FsZW5kYXIuZ29vZ2xlLmNvbQ.7884cc4gl1g1a15ocsbg48umuf&hs=121

9:00 AM to 3:00 PM

Wrestling

Location:

Belding High School, 850 Hall St, Belding, MI 48809, USA

This event has a Google Hangouts video call. Join: https://hangouts.google.com/hangouts/_/mapsk12.org/raethk?hceid=bWFwc2sxMi5vcmdfOTg2b3Nmb20yY3BwdHRxOWd1cnVzNzhrNjBAZ3JvdXAuY2FsZW5kYXIuZ29vZ2xlLmNvbQ.1lcbkvm3tseiku1spfd8s8nss6&hs=121

17

Feb 17

This event has a Google Hangouts video call. Join: https://hangouts.google.com/hangouts/_/mapsk12.org/drama-rehearsal?hceid=bWFwc2sxMi5vcmdfNjF0bGl1dm8zaHNqbnNuNjJzYTUzaG5rMXNAZ3JvdXAuY2FsZW5kYXIuZ29vZ2xlLmNvbQ.6dmen9j5ar6framus8eifj4uej&hs=121

No School - Mid-Winter Break

This event has a Google Hangouts video call. Join: https://hangouts.google.com/hangouts/_/mapsk12.org/no-school-mid?hceid=bWFwc2sxMi5vcmdfc2pxY3JpcjdvNG1uMXQyYTcxODJvNzRzYm9AZ3JvdXAuY2FsZW5kYXIuZ29vZ2xlLmNvbQ.7884cc4gl1g1a15ocsbg48umuf&hs=121

18

Feb 18

This event has a Google Hangouts video call. Join: https://hangouts.google.com/hangouts/_/mapsk12.org/drama-rehearsal?hceid=bWFwc2sxMi5vcmdfNjF0bGl1dm8zaHNqbnNuNjJzYTUzaG5rMXNAZ3JvdXAuY2FsZW5kYXIuZ29vZ2xlLmNvbQ.6dmen9j5ar6framus8eifj4uej&hs=121

No School - Mid-Winter Break

This event has a Google Hangouts video call. Join: https://hangouts.google.com/hangouts/_/mapsk12.org/no-school-mid?hceid=bWFwc2sxMi5vcmdfc2pxY3JpcjdvNG1uMXQyYTcxODJvNzRzYm9AZ3JvdXAuY2FsZW5kYXIuZ29vZ2xlLmNvbQ.7884cc4gl1g1a15ocsbg48umuf&hs=121

5:30 PM to 7:00 PM

Girls JV Bball vs Spring Lake

Location:

Montague High School

6:00 PM to 7:30 PM

Boys JV Bball vs Oakridge

Location:

Oakridge High School

7:00 PM to 9:00 PM

Girls Varsity Bball vs Spring Lake

Location:

Montague High School

7:30 PM to 9:30 PM

Boys Varsity Bball vs Oakridge

Location:

Oakridge High School

19

Feb 19

This event has a Google Hangouts video call. Join: https://hangouts.google.com/hangouts/_/mapsk12.org/drama-rehearsal?hceid=bWFwc2sxMi5vcmdfNjF0bGl1dm8zaHNqbnNuNjJzYTUzaG5rMXNAZ3JvdXAuY2FsZW5kYXIuZ29vZ2xlLmNvbQ.6dmen9j5ar6framus8eifj4uej&hs=121

7:30 AM to 9:00 AM

Speaker Series

Location:

Center for the Arts at Montague High School, Montague, MI 49437, USA

This event has a Google Hangouts video call. Join: https://hangouts.google.com/hangouts/_/mapsk12.org/gormand?hceid=bWFwc2sxMi5vcmdfNjF0bGl1dm8zaHNqbnNuNjJzYTUzaG5rMXNAZ3JvdXAuY2FsZW5kYXIuZ29vZ2xlLmNvbQ.47rtd31b4hklnod5qjkranli8h&hs=121

4:00 PM to 5:00 PM

MS Volleyball @ Home vs. Ravenna

5:30 PM to 7:00 PM

Boys JV Bball vs West Mich Christian

Location:

Western Michigan Christian High School, 455 E Ellis Rd, Norton Shores, MI 49441, USA

Western Michigan Christian High School

5:30 PM to 7:00 PM

Girls JV Bball vs West Mich Christian

Location:

Montague High School, 4900 Stanton Blvd, Montague, MI 49437, USA

7:00 PM to 9:00 PM

Boys Varsity Bball vs West Mich Christian

Location:

Western Michigan Christian High School, 455 E Ellis Rd, Norton Shores, MI 49441, USA

7:00 PM to 9:00 PM

Girls Varsity Bball vs West Mich Christian

Location:

Montague High School, 4900 Stanton Blvd, Montague, MI 49437, USA

20

Feb 20

This event has a Google Hangouts video call. Join: https://hangouts.google.com/hangouts/_/mapsk12.org/drama-rehearsal?hceid=bWFwc2sxMi5vcmdfNjF0bGl1dm8zaHNqbnNuNjJzYTUzaG5rMXNAZ3JvdXAuY2FsZW5kYXIuZ29vZ2xlLmNvbQ.6dmen9j5ar6framus8eifj4uej&hs=121

Early Release - All Buildings Release 1 Hour Early

This event has a Google Hangouts video call. Join: https://hangouts.google.com/hangouts/_/mapsk12.org/early-release?hceid=bWFwc2sxMi5vcmdfc2pxY3JpcjdvNG1uMXQyYTcxODJvNzRzYm9AZ3JvdXAuY2FsZW5kYXIuZ29vZ2xlLmNvbQ.7j3n900ktr37f0oai25q45r3p9&hs=121

6:00 PM to 9:00 PM

Competitive Cheer GMAA

Location:

Whitehall High School

21

Feb 21

This event has a Google Hangouts video call. Join: https://hangouts.google.com/hangouts/_/mapsk12.org/drama-rehearsal?hceid=bWFwc2sxMi5vcmdfNjF0bGl1dm8zaHNqbnNuNjJzYTUzaG5rMXNAZ3JvdXAuY2FsZW5kYXIuZ29vZ2xlLmNvbQ.6dmen9j5ar6framus8eifj4uej&hs=121

4:00 PM to 5:00 PM

22

Feb 22

This event has a Google Hangouts video call. Join: https://hangouts.google.com/hangouts/_/mapsk12.org/drama-rehearsal?hceid=bWFwc2sxMi5vcmdfNjF0bGl1dm8zaHNqbnNuNjJzYTUzaG5rMXNAZ3JvdXAuY2FsZW5kYXIuZ29vZ2xlLmNvbQ.6dmen9j5ar6framus8eifj4uej&hs=121

5:30 PM to 7:00 PM

Girls JV Bball vs Ravenna

Location:

Ravenna High School

6:00 PM to 7:30 PM

Boys JV Bball vs Mason CC

Location:

Mason Co Central High School

Mason Co Central High School

7:00 PM to 9:00 PM

Girls Varsity Bball vs Ravenna

Location:

Ravenna High School

7:30 PM to 9:30 PM

Boys Varsity Bball vs Mason CC

Location:

Mason Co Central High School

Mason Co Central High School

23

Feb 23

This event has a Google Hangouts video call. Join: https://hangouts.google.com/hangouts/_/mapsk12.org/drama-rehearsal?hceid=bWFwc2sxMi5vcmdfNjF0bGl1dm8zaHNqbnNuNjJzYTUzaG5rMXNAZ3JvdXAuY2FsZW5kYXIuZ29vZ2xlLmNvbQ.6dmen9j5ar6framus8eifj4uej&hs=121

24

Feb 24

This event has a Google Hangouts video call. Join: https://hangouts.google.com/hangouts/_/mapsk12.org/drama-rehearsal?hceid=bWFwc2sxMi5vcmdfNjF0bGl1dm8zaHNqbnNuNjJzYTUzaG5rMXNAZ3JvdXAuY2FsZW5kYXIuZ29vZ2xlLmNvbQ.6dmen9j5ar6framus8eifj4uej&hs=121

25

Feb 25

This event has a Google Hangouts video call. Join: https://hangouts.google.com/hangouts/_/mapsk12.org/drama-rehearsal?hceid=bWFwc2sxMi5vcmdfNjF0bGl1dm8zaHNqbnNuNjJzYTUzaG5rMXNAZ3JvdXAuY2FsZW5kYXIuZ29vZ2xlLmNvbQ.6dmen9j5ar6framus8eifj4uej&hs=121

5:30 PM to 7:00 PM

Girls JV Bball vs Whitehall

Location:

Whitehall High School

6:00 PM to 7:30 PM

Boys Varsity Bball Districts

Location:

Orchard View High School, 16 N Quarterline Rd, Muskegon, MI 49442, USA

MHSAA District Tournament (Not Listed)

7:00 PM to 9:00 PM

Girls Varsity Bball vs Whitehall

Location:

Whitehall High School

26

Feb 26

This event has a Google Hangouts video call. Join: https://hangouts.google.com/hangouts/_/mapsk12.org/drama-rehearsal?hceid=bWFwc2sxMi5vcmdfNjF0bGl1dm8zaHNqbnNuNjJzYTUzaG5rMXNAZ3JvdXAuY2FsZW5kYXIuZ29vZ2xlLmNvbQ.6dmen9j5ar6framus8eifj4uej&hs=121

4:00 PM to 5:00 PM

MS Volleyball @ Home vs. Whitehall

5:30 PM to 7:00 PM

Girls JV Bball vs Orchard View

Location:

Montague High School

7:00 PM to 9:00 PM

Girls Varsity Bball vs Orchard View

Location:

Montague High School

27

Feb 27

This event has a Google Hangouts video call. Join: https://hangouts.google.com/hangouts/_/mapsk12.org/drama-rehearsal?hceid=bWFwc2sxMi5vcmdfNjF0bGl1dm8zaHNqbnNuNjJzYTUzaG5rMXNAZ3JvdXAuY2FsZW5kYXIuZ29vZ2xlLmNvbQ.6dmen9j5ar6framus8eifj4uej&hs=121

Early Release - All Buildings Release 1 Hour Early

This event has a Google Hangouts video call. Join: https://hangouts.google.com/hangouts/_/mapsk12.org/early-release?hceid=bWFwc2sxMi5vcmdfc2pxY3JpcjdvNG1uMXQyYTcxODJvNzRzYm9AZ3JvdXAuY2FsZW5kYXIuZ29vZ2xlLmNvbQ.7j3n900ktr37f0oai25q45r3p9&hs=121

6:00 PM to 9:00 PM

Boys Basketball Districts

Location:

Orchard View High School, 16 N Quarterline Rd, Muskegon, MI 49442, USA

This event has a Google Hangouts video call. Join: https://hangouts.google.com/hangouts/_/mapsk12.org/raethk?hceid=bWFwc2sxMi5vcmdfOTg2b3Nmb20yY3BwdHRxOWd1cnVzNzhrNjBAZ3JvdXAuY2FsZW5kYXIuZ29vZ2xlLmNvbQ.64en80pekk0gtmjp2pmomv5n0g&hs=121

28

Feb 28

This event has a Google Hangouts video call. Join: https://hangouts.google.com/hangouts/_/mapsk12.org/drama-rehearsal?hceid=bWFwc2sxMi5vcmdfNjF0bGl1dm8zaHNqbnNuNjJzYTUzaG5rMXNAZ3JvdXAuY2FsZW5kYXIuZ29vZ2xlLmNvbQ.6dmen9j5ar6framus8eifj4uej&hs=121

3:00 PM to 4:00 PM

This event has a Google Hangouts video call. Join: https://hangouts.google.com/hangouts/_/mapsk12.org/hedrickd?hceid=bWFwc2sxMi5vcmdfOGRtdGRkYzVwNmYzdW8zYjJqZ2tobmxlaTBAZ3JvdXAuY2FsZW5kYXIuZ29vZ2xlLmNvbQ.32dpb36gc7gkn6vj90kt80bqts&hs=121

4:00 PM to 5:00 PM

4:00 PM to 5:00 PM
MAPS News
February 20, 2019
RRO Elementary Carnival
The annual RRO Carnival will be held on Saturday, March 2 from 4:00 - 7:00 p.m.
February 14, 2019
Father Daughter Dance
The 4th annual Father Daughter Dance will be held on Friday, March 8.
February 14, 2019
Kindergarten Round Up
The Montague Area Childhood Center staff looks forward to meeting incoming Young Fives and Kindergarten families during Kindergarten Roundup on Tuesday, March 12, 2019 at 6:15 pm.  Families will be able to tour the building, meet the MACC staff, and will engage in fine motor, literacy, and math skill stations.

 
February 8, 2019
School Closings and Delays
The decision to close or delay school can be a tricky one.
January 7, 2019
AP Honor Roll
Montague Area Public Schools has been named to the College Board's 9th Annual AP® District Honor Roll. The Honor Roll recognizes 447 school districts in the U.S. and Canada that have increased access to AP coursework while maintaining or increasing the percentage of students earning scores of 3 or higher on AP Exams.
Mission Statement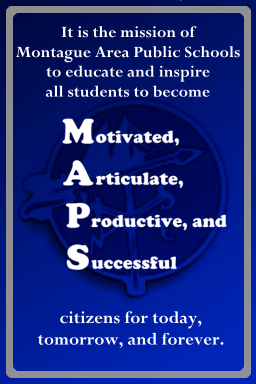 MAPS


MACC


RRO


NBC


MHS


2016 CTE Core Performance Indicators



Annual Reports
Annual Reports, 2014-2015: