Upcoming Events
Calendar

‹

December

2019

›

S
M
T
W
T
F
S
1
2
3

Dec 3

4:00 PM to 6:00 PM

MS Boys' Basketball vs. MCC @ Home

5:30 PM to 7:00 PM

JV Girls Basketball @ Fremont High School

This event has a Google Hangouts video call. Join: https://hangouts.google.com/hangouts/_/mapsk12.org/jv-girls?hceid=bWFwc2sxMi5vcmdfOTg2b3Nmb20yY3BwdHRxOWd1cnVzNzhrNjBAZ3JvdXAuY2FsZW5kYXIuZ29vZ2xlLmNvbQ.3mta7glbrm9ggie1t0fvqsijc3&hs=121

7:00 PM to 8:00 PM

Varsity Girls Basketball @ Fremont High School

This event has a Google Hangouts video call. Join: https://hangouts.google.com/hangouts/_/mapsk12.org/varsity-girls?hceid=bWFwc2sxMi5vcmdfOTg2b3Nmb20yY3BwdHRxOWd1cnVzNzhrNjBAZ3JvdXAuY2FsZW5kYXIuZ29vZ2xlLmNvbQ.2f2curb8d0v5rdcl8oph2fp9lv&hs=121

4

Dec 4

Early Release - All Buildings Release 1 Hour Early

This event has a Google Hangouts video call. Join: https://hangouts.google.com/hangouts/_/mapsk12.org/early-release?hceid=bWFwc2sxMi5vcmdfc2pxY3JpcjdvNG1uMXQyYTcxODJvNzRzYm9AZ3JvdXAuY2FsZW5kYXIuZ29vZ2xlLmNvbQ.0l5glj91ccf23hef4dbsfb2bf8&hs=121

4:00 PM to 6:00 PM

MS Boys' Basketball vs. Shelby @ Home

5

Dec 5

This event has a Google Hangouts video call. Join: https://hangouts.google.com/hangouts/_/mapsk12.org/gormand?hceid=Z29ybWFuZEBtYXBzazEyLm9yZw.6lel4vkj26s1i0s1bl1eo5pj3j&hs=121

4:00 PM to 7:00 PM

Ballet Move in

Location:

Center for the Arts at Montague High School, Montague, MI 49437, USA

This event has a Google Hangouts video call. Join: https://hangouts.google.com/hangouts/_/mapsk12.org/gormand?hceid=Z29ybWFuZEBtYXBzazEyLm9yZw.3a3g3aq6e536ovet6l7h89qlmr&hs=121

6

Dec 6

4:30 PM to 8:30 PM

MYBT present Nutcracker Dress Rehearsal

Location:

Center for the Arts at Montague High School, Montague, MI 49437, USA

This event has a Google Hangouts video call. Join: https://hangouts.google.com/hangouts/_/mapsk12.org/gormand?hceid=bWFwc2sxMi5vcmdfNjF0bGl1dm8zaHNqbnNuNjJzYTUzaG5rMXNAZ3JvdXAuY2FsZW5kYXIuZ29vZ2xlLmNvbQ.3s9j5411rta98bmc5ng7p026da&hs=121

5:30 PM to 6:30 PM

Home JV Girls Basketball vs. Ravenna High School

This event has a Google Hangouts video call. Join: https://hangouts.google.com/hangouts/_/mapsk12.org/home-jv-girls?hceid=bWFwc2sxMi5vcmdfOTg2b3Nmb20yY3BwdHRxOWd1cnVzNzhrNjBAZ3JvdXAuY2FsZW5kYXIuZ29vZ2xlLmNvbQ.2jc06tmuuq44piaapeho97jhth&hs=121

7:00 PM to 8:00 PM

Home Varsity Girls Baskeball vs. Ravenna High School

This event has a Google Hangouts video call. Join: https://hangouts.google.com/hangouts/_/mapsk12.org/home-varsity?hceid=bWFwc2sxMi5vcmdfOTg2b3Nmb20yY3BwdHRxOWd1cnVzNzhrNjBAZ3JvdXAuY2FsZW5kYXIuZ29vZ2xlLmNvbQ.0ceoen940vb55676id6tilul34&hs=121

7

Dec 7

This event has a Google Hangouts video call. Join: https://hangouts.google.com/hangouts/_/mapsk12.org/greenwoode?hceid=bWFwc2sxMi5vcmdfNjF0bGl1dm8zaHNqbnNuNjJzYTUzaG5rMXNAZ3JvdXAuY2FsZW5kYXIuZ29vZ2xlLmNvbQ.7h8lcjl5nl0rnp3uor5lj2g935&hs=121

Middle School Solo/Ensemble

Location:

Coopersville Middle School, 198 East St, Coopersville, MI 49404, USA

This event has a Google Hangouts video call. Join: https://hangouts.google.com/hangouts/_/mapsk12.org/greenwoode?hceid=bWFwc2sxMi5vcmdfNjFqcHRkbnRhczZ0MXVlbmh2Z2JodGFnYzRAZ3JvdXAuY2FsZW5kYXIuZ29vZ2xlLmNvbQ.3tvmp9dt2i4mc813o2p9ouhev5&hs=121

4:00 PM to 5:30 PM

MI Youth Ballet Theatre presents The Nutcracker

Location:

Center for the Arts at Montague High School, Montague, MI 49437, USA

This event has a Google Hangouts video call. Join: https://hangouts.google.com/hangouts/_/mapsk12.org/gormand?hceid=bWFwc2sxMi5vcmdfNjF0bGl1dm8zaHNqbnNuNjJzYTUzaG5rMXNAZ3JvdXAuY2FsZW5kYXIuZ29vZ2xlLmNvbQ.0nkqcueaqi57p8mg26nucqbmd0&hs=121

7:00 PM to 8:30 PM

MI Youth Ballet Theatre presents The Nutcracker

Location:

Center for the Arts at Montague High School, Montague, MI 49437, USA

This event has a Google Hangouts video call. Join: https://hangouts.google.com/hangouts/_/mapsk12.org/gormand?hceid=bWFwc2sxMi5vcmdfNjF0bGl1dm8zaHNqbnNuNjJzYTUzaG5rMXNAZ3JvdXAuY2FsZW5kYXIuZ29vZ2xlLmNvbQ.4rqjfiffrpokq3mq541735sdbp&hs=121

8

Dec 8

3:00 PM to 4:30 PM

MI Youth Ballet Theatre presents The Nutcracker

Location:

Center for the Arts at Montague High School, Montague, MI 49437, USA

This event has a Google Hangouts video call. Join: https://hangouts.google.com/hangouts/_/mapsk12.org/gormand?hceid=bWFwc2sxMi5vcmdfNjF0bGl1dm8zaHNqbnNuNjJzYTUzaG5rMXNAZ3JvdXAuY2FsZW5kYXIuZ29vZ2xlLmNvbQ.69f19sb7c23a5msltm3kv635ji&hs=121

9

Dec 9

3:00 PM to 5:00 PM

Boys Bowling vs. Ludington @ FOE Bowling Club

Location:

Foe Bowling Club, 4555 N Oceana Dr, Hart, MI 49420, USA

This event has a Google Hangouts video call. Join: https://hangouts.google.com/hangouts/_/mapsk12.org/boys-bowling-vs?hceid=bWFwc2sxMi5vcmdfOTg2b3Nmb20yY3BwdHRxOWd1cnVzNzhrNjBAZ3JvdXAuY2FsZW5kYXIuZ29vZ2xlLmNvbQ.560973rli3fvr3krrfvir8q9qe&hs=121

3:00 PM to 5:00 PM

Girls Bowling vs. Ludington High School @ F.O.E. Bowling Club

Location:

Foe Bowling Club, 4555 N Oceana Dr, Hart, MI 49420, USA

This event has a Google Hangouts video call. Join: https://hangouts.google.com/hangouts/_/mapsk12.org/girls-bowling?hceid=bWFwc2sxMi5vcmdfOTg2b3Nmb20yY3BwdHRxOWd1cnVzNzhrNjBAZ3JvdXAuY2FsZW5kYXIuZ29vZ2xlLmNvbQ.0i3ha688kv1lsslc6tjuojggen&hs=121

4:00 PM to 6:00 PM

MS Boys' Basketball Tournament - Home

6:00 PM to 7:00 PM

Regular Board Meeting

Calendar:

Board of Education

10

Dec 10

5:30 PM to 6:30 PM

JV Girls Basketball @ Spring Lake High School

This event has a Google Hangouts video call. Join: https://hangouts.google.com/hangouts/_/mapsk12.org/jv-girls?hceid=bWFwc2sxMi5vcmdfOTg2b3Nmb20yY3BwdHRxOWd1cnVzNzhrNjBAZ3JvdXAuY2FsZW5kYXIuZ29vZ2xlLmNvbQ.49njbr7ju9vcg25iiibasul5uo&hs=121

5:30 PM to 7:00 PM

Home JV Boys Baskeball vs. Fruitport High School

Location:

Montague High School, 4900 Stanton Blvd, Montague, MI 49437, USA

This event has a Google Hangouts video call. Join: https://hangouts.google.com/hangouts/_/mapsk12.org/home-jv-boys?hceid=bWFwc2sxMi5vcmdfOTg2b3Nmb20yY3BwdHRxOWd1cnVzNzhrNjBAZ3JvdXAuY2FsZW5kYXIuZ29vZ2xlLmNvbQ.0na2736jqmfusojhml91bb45t8&hs=121

7:00 PM to 8:00 PM

5th Grade Concert

Location:

Montague High School, 4900 Stanton Blvd, Montague, MI 49437, USA

This event has a Google Hangouts video call. Join: https://hangouts.google.com/hangouts/_/mapsk12.org/hedrickd?hceid=bWFwc2sxMi5vcmdfOGRtdGRkYzVwNmYzdW8zYjJqZ2tobmxlaTBAZ3JvdXAuY2FsZW5kYXIuZ29vZ2xlLmNvbQ.0kt8vnghlrgfhc90icr2liab4k&hs=121

7:00 PM to 8:00 PM

Home Varsity Boys Basketball vs. Fruitport High School

This event has a Google Hangouts video call. Join: https://hangouts.google.com/hangouts/_/mapsk12.org/home-varsity?hceid=bWFwc2sxMi5vcmdfOTg2b3Nmb20yY3BwdHRxOWd1cnVzNzhrNjBAZ3JvdXAuY2FsZW5kYXIuZ29vZ2xlLmNvbQ.0gnkto3jhepq938nld84k1qb9t&hs=121

7:00 PM to 8:00 PM

RRO 5th Grade Christmas Concert

Location:

Center for the Arts at Montague High School, Montague, MI 49437, USA

This event has a Google Hangouts video call. Join: https://hangouts.google.com/hangouts/_/mapsk12.org/gormand?hceid=bWFwc2sxMi5vcmdfNjF0bGl1dm8zaHNqbnNuNjJzYTUzaG5rMXNAZ3JvdXAuY2FsZW5kYXIuZ29vZ2xlLmNvbQ.2tl7ra3c70hr1ae88m0h787r5p&hs=121

7:00 PM to 8:00 PM

Varsity Girls Basketball @ Spring Lake High School

This event has a Google Hangouts video call. Join: https://hangouts.google.com/hangouts/_/mapsk12.org/varsity-girls?hceid=bWFwc2sxMi5vcmdfOTg2b3Nmb20yY3BwdHRxOWd1cnVzNzhrNjBAZ3JvdXAuY2FsZW5kYXIuZ29vZ2xlLmNvbQ.7qbabjnieq3n5upkpv8h5ef1sv&hs=121

11

Dec 11

Early Release - All Buildings Release 1 Hour Early

This event has a Google Hangouts video call. Join: https://hangouts.google.com/hangouts/_/mapsk12.org/early-release?hceid=bWFwc2sxMi5vcmdfc2pxY3JpcjdvNG1uMXQyYTcxODJvNzRzYm9AZ3JvdXAuY2FsZW5kYXIuZ29vZ2xlLmNvbQ.0l5glj91ccf23hef4dbsfb2bf8&hs=121

3:30 PM to 5:30 PM

Boys Bowling vs. Fremont @ Sherman Bowling Center

Location:

Sherman Bowling Center, 1531 W Sherman Blvd, Muskegon, MI 49441, USA

This event has a Google Hangouts video call. Join: https://hangouts.google.com/hangouts/_/mapsk12.org/boys-bowling-vs?hceid=bWFwc2sxMi5vcmdfOTg2b3Nmb20yY3BwdHRxOWd1cnVzNzhrNjBAZ3JvdXAuY2FsZW5kYXIuZ29vZ2xlLmNvbQ.72lrgi3pdrc3ehc8ji8jdshhhf&hs=121

3:30 PM to 5:30 PM

Girls Bowling vs. Fremont High School @ Sherman Bowling Center

Location:

Sherman Bowling Center, 1531 W Sherman Blvd, Muskegon, MI 49441, USA

This event has a Google Hangouts video call. Join: https://hangouts.google.com/hangouts/_/mapsk12.org/girls-bowling?hceid=bWFwc2sxMi5vcmdfOTg2b3Nmb20yY3BwdHRxOWd1cnVzNzhrNjBAZ3JvdXAuY2FsZW5kYXIuZ29vZ2xlLmNvbQ.7a12cq6nsu50hso9n82i4mmb4f&hs=121

4:00 PM to 6:00 PM

MS Boys' Basketball 7th Grade Semifinals @ Whitehall

4:00 PM to 6:00 PM

MS Boys' Basketball 8th Grade Semifinals @ Home

5:00 PM to 8:00 PM

MHS Wrestling @ Kent City High School

This event has a Google Hangouts video call. Join: https://hangouts.google.com/hangouts/_/mapsk12.org/mhs-wrestling?hceid=bWFwc2sxMi5vcmdfOTg2b3Nmb20yY3BwdHRxOWd1cnVzNzhrNjBAZ3JvdXAuY2FsZW5kYXIuZ29vZ2xlLmNvbQ.04ar5s5r699jk3hsalpor9g32j&hs=121

12

Dec 12

4:00 PM to 6:00 PM

MS Boys' Basketball Tournament Finals - Home

6:00 PM to 7:00 PM

JV Girls Basketball @ Oakridge High School

This event has a Google Hangouts video call. Join: https://hangouts.google.com/hangouts/_/mapsk12.org/jv-girls?hceid=bWFwc2sxMi5vcmdfOTg2b3Nmb20yY3BwdHRxOWd1cnVzNzhrNjBAZ3JvdXAuY2FsZW5kYXIuZ29vZ2xlLmNvbQ.4uvi0jo9jo868km919v7oc0var&hs=121

6:00 PM to 9:00 PM

White Lake Chorale Holiday Concert -practice

Location:

Center for the Arts at Montague High School, Montague, MI 49437, USA

This event has a Google Hangouts video call. Join: https://hangouts.google.com/hangouts/_/mapsk12.org/gormand?hceid=Z29ybWFuZEBtYXBzazEyLm9yZw.4vf9m3q1ds0u4ublp4voqeqhm9&hs=121

7:30 PM to 8:30 PM

Varsity Girls Baskeball @ Oakrdige High School

This event has a Google Hangouts video call. Join: https://hangouts.google.com/hangouts/_/mapsk12.org/varsity-girls?hceid=bWFwc2sxMi5vcmdfOTg2b3Nmb20yY3BwdHRxOWd1cnVzNzhrNjBAZ3JvdXAuY2FsZW5kYXIuZ29vZ2xlLmNvbQ.3eid5d9fm24uvls1hsg8hjirjh&hs=121

13

Dec 13

5:30 PM to 6:30 PM

JV Boys Basketball @ Ravenna High School

This event has a Google Hangouts video call. Join: https://hangouts.google.com/hangouts/_/mapsk12.org/jv-boys?hceid=bWFwc2sxMi5vcmdfOTg2b3Nmb20yY3BwdHRxOWd1cnVzNzhrNjBAZ3JvdXAuY2FsZW5kYXIuZ29vZ2xlLmNvbQ.162e6kuclfd4fuofvhlcmnlbv0&hs=121

7:00 PM to 8:00 PM

Varsity Boys Basketball @ Ravenna High School

This event has a Google Hangouts video call. Join: https://hangouts.google.com/hangouts/_/mapsk12.org/varsity-boys?hceid=bWFwc2sxMi5vcmdfOTg2b3Nmb20yY3BwdHRxOWd1cnVzNzhrNjBAZ3JvdXAuY2FsZW5kYXIuZ29vZ2xlLmNvbQ.62rkmbhth40e4l2a0qoked6oab&hs=121

14

Dec 14

10:00 AM to 3:00 PM

MHS Wrestling @ Hemlock High School

This event has a Google Hangouts video call. Join: https://hangouts.google.com/hangouts/_/mapsk12.org/mhs-wrestling?hceid=bWFwc2sxMi5vcmdfOTg2b3Nmb20yY3BwdHRxOWd1cnVzNzhrNjBAZ3JvdXAuY2FsZW5kYXIuZ29vZ2xlLmNvbQ.2p87fa1nf3aive2fsab3bm73um&hs=121

12:30 PM to 2:30 PM

Competitive Cheer @ West Ottawa High School

This event has a Google Hangouts video call. Join: https://hangouts.google.com/hangouts/_/mapsk12.org/competitive?hceid=bWFwc2sxMi5vcmdfOTg2b3Nmb20yY3BwdHRxOWd1cnVzNzhrNjBAZ3JvdXAuY2FsZW5kYXIuZ29vZ2xlLmNvbQ.001i4me11f40r463281immd95p&hs=121

1:30 PM to 2:30 PM

White Lake Chorale Access

This event has a Google Hangouts video call. Join: https://hangouts.google.com/hangouts/_/mapsk12.org/gormand?hceid=bWFwc2sxMi5vcmdfNjF0bGl1dm8zaHNqbnNuNjJzYTUzaG5rMXNAZ3JvdXAuY2FsZW5kYXIuZ29vZ2xlLmNvbQ.1kdufu9cv6achpp1alh5mikjqq&hs=121

4:00 PM to 6:30 PM

White Lake Chorale Christmas Concert

Location:

Center for the Arts at Montague High School, Montague, MI 49437, USA

This event has a Google Hangouts video call. Join: https://hangouts.google.com/hangouts/_/mapsk12.org/white-lake?hceid=Z29ybWFuZEBtYXBzazEyLm9yZw.12i1tgp7bcop6hja1rcde3dvur&hs=121

15

Dec 15

3:00 PM to 5:00 PM

This event has a Google Hangouts video call. Join: https://hangouts.google.com/hangouts/_/mapsk12.org/christmas?hceid=bWFwc2sxMi5vcmdfNjFqcHRkbnRhczZ0MXVlbmh2Z2JodGFnYzRAZ3JvdXAuY2FsZW5kYXIuZ29vZ2xlLmNvbQ.6gtq3lmbb2dklbs63fko9s030g&hs=121

3:00 PM to 5:00 PM

NBC and MHS Band Christmas Concert

Location:

Center for the Arts at Montague High School, Montague, MI 49437, USA

This event has a Google Hangouts video call. Join: https://hangouts.google.com/hangouts/_/mapsk12.org/christmas?hceid=bWFwc2sxMi5vcmdfNjF0bGl1dm8zaHNqbnNuNjJzYTUzaG5rMXNAZ3JvdXAuY2FsZW5kYXIuZ29vZ2xlLmNvbQ.1h8qvjpm0mbe1matnr95i25te8&hs=121

16

Dec 16

This event has a Google Hangouts video call. Join: https://hangouts.google.com/hangouts/_/mapsk12.org/greenwoode?hceid=bWFwc2sxMi5vcmdfNjFqcHRkbnRhczZ0MXVlbmh2Z2JodGFnYzRAZ3JvdXAuY2FsZW5kYXIuZ29vZ2xlLmNvbQ.19enamtshace1l84e06ibq6div&hs=121

3:30 PM to 5:30 PM

Boys Bowling vs. Orchard View @ Northway Lanes

Location:

Northway Lanes & Billiards, 1751 Evanston Ave, Muskegon, MI 49442, USA

This event has a Google Hangouts video call. Join: https://hangouts.google.com/hangouts/_/mapsk12.org/boys-bowling-vs?hceid=bWFwc2sxMi5vcmdfOTg2b3Nmb20yY3BwdHRxOWd1cnVzNzhrNjBAZ3JvdXAuY2FsZW5kYXIuZ29vZ2xlLmNvbQ.38m69m3r52larb631tk2k1117p&hs=121

3:30 PM to 5:30 PM

Girls Bowling vs. Orchard View @ Northway Lanes

Location:

Northway Lanes & Billiards, 1751 Evanston Ave, Muskegon, MI 49442, USA

This event has a Google Hangouts video call. Join: https://hangouts.google.com/hangouts/_/mapsk12.org/girls-bowling?hceid=bWFwc2sxMi5vcmdfOTg2b3Nmb20yY3BwdHRxOWd1cnVzNzhrNjBAZ3JvdXAuY2FsZW5kYXIuZ29vZ2xlLmNvbQ.7sdsg7bcmh1uhefiul9504vlni&hs=121

17

Dec 17

5:30 PM to 7:00 PM

Home JV Boys Basketball vs. Fremont High School

This event has a Google Hangouts video call. Join: https://hangouts.google.com/hangouts/_/mapsk12.org/home-jv-boys?hceid=bWFwc2sxMi5vcmdfOTg2b3Nmb20yY3BwdHRxOWd1cnVzNzhrNjBAZ3JvdXAuY2FsZW5kYXIuZ29vZ2xlLmNvbQ.2h75qn2scpb1dirvpqcic14hc7&hs=121

6:00 PM to 7:00 PM

JV Girls Basketball @ Mason Co. Central High School

This event has a Google Hangouts video call. Join: https://hangouts.google.com/hangouts/_/mapsk12.org/jv-girls?hceid=bWFwc2sxMi5vcmdfOTg2b3Nmb20yY3BwdHRxOWd1cnVzNzhrNjBAZ3JvdXAuY2FsZW5kYXIuZ29vZ2xlLmNvbQ.3nqpa6jhe0edce3c0n6i3h4rh0&hs=121

7:00 PM to 8:00 PM

NBC & MHS Christmas Choir

Location:

Center for the Arts at Montague High School, Montague, MI 49437, USA

This event has a Google Hangouts video call. Join: https://hangouts.google.com/hangouts/_/mapsk12.org/gormand?hceid=Z29ybWFuZEBtYXBzazEyLm9yZw.7mut12p0un8hhi023pdju86j8o&hs=121

7:00 PM to 8:30 PM

Home Varsity Boys Basketball vs. Fremont High School

Location:

Montague High School, 4900 Stanton Blvd, Montague, MI 49437, USA

This event has a Google Hangouts video call. Join: https://hangouts.google.com/hangouts/_/mapsk12.org/home-varsity?hceid=bWFwc2sxMi5vcmdfOTg2b3Nmb20yY3BwdHRxOWd1cnVzNzhrNjBAZ3JvdXAuY2FsZW5kYXIuZ29vZ2xlLmNvbQ.548age807orqcu3nlkgrl0o0j9&hs=121

7:30 PM to 8:30 PM

Varsity Girls Basketball @ Mason Co. Central High School

This event has a Google Hangouts video call. Join: https://hangouts.google.com/hangouts/_/mapsk12.org/varsity-girls?hceid=bWFwc2sxMi5vcmdfOTg2b3Nmb20yY3BwdHRxOWd1cnVzNzhrNjBAZ3JvdXAuY2FsZW5kYXIuZ29vZ2xlLmNvbQ.7umg4lu4tgjprsrvn6a09q44jr&hs=121

18

Dec 18

Early Release - All Buildings Release 1 Hour Early

This event has a Google Hangouts video call. Join: https://hangouts.google.com/hangouts/_/mapsk12.org/early-release?hceid=bWFwc2sxMi5vcmdfc2pxY3JpcjdvNG1uMXQyYTcxODJvNzRzYm9AZ3JvdXAuY2FsZW5kYXIuZ29vZ2xlLmNvbQ.0l5glj91ccf23hef4dbsfb2bf8&hs=121

3:30 PM to 5:30 PM

Boys Bowling vs. Mason Co. Central High School @ Sherman Bowling Center

Location:

Sherman Bowling Center, 1531 W Sherman Blvd, Muskegon, MI 49441, USA

This event has a Google Hangouts video call. Join: https://hangouts.google.com/hangouts/_/mapsk12.org/boys-bowling-vs?hceid=bWFwc2sxMi5vcmdfOTg2b3Nmb20yY3BwdHRxOWd1cnVzNzhrNjBAZ3JvdXAuY2FsZW5kYXIuZ29vZ2xlLmNvbQ.27g9btbimvf8393oanoab9r07m&hs=121

4:30 PM to 6:30 PM

MS Competitive Cheer @ Mona Shores

Location:

Mona Shores High School

5:30 PM to 8:30 PM

MHS Wrestling Quad @ Mason Co. Central High School

This event has a Google Hangouts video call. Join: https://hangouts.google.com/hangouts/_/mapsk12.org/mhs-wrestling?hceid=bWFwc2sxMi5vcmdfOTg2b3Nmb20yY3BwdHRxOWd1cnVzNzhrNjBAZ3JvdXAuY2FsZW5kYXIuZ29vZ2xlLmNvbQ.42kjub98pcj3b2hq3e2508ur7i&hs=121

6:00 PM to 8:00 PM

Competitive Cheer @ Mona Shores High School

This event has a Google Hangouts video call. Join: https://hangouts.google.com/hangouts/_/mapsk12.org/competitive?hceid=bWFwc2sxMi5vcmdfOTg2b3Nmb20yY3BwdHRxOWd1cnVzNzhrNjBAZ3JvdXAuY2FsZW5kYXIuZ29vZ2xlLmNvbQ.47hnsmtqdrq9jlvh7ker02kcn4&hs=121

19

Dec 19

1:30 PM to 2:30 PM

This event has a Google Hangouts video call. Join: https://hangouts.google.com/hangouts/_/mapsk12.org/hedrickd?hceid=bWFwc2sxMi5vcmdfaHBsYjI5bGoyYW0xaGIwZzlwZHMzbm90N3NAZ3JvdXAuY2FsZW5kYXIuZ29vZ2xlLmNvbQ.2m20e5lm5o9uaggk9euj5rnl9q&hs=121

6:00 PM to 7:00 PM

JV Boys Basketball @ Oakrdige High School

This event has a Google Hangouts video call. Join: https://hangouts.google.com/hangouts/_/mapsk12.org/jv-boys?hceid=bWFwc2sxMi5vcmdfOTg2b3Nmb20yY3BwdHRxOWd1cnVzNzhrNjBAZ3JvdXAuY2FsZW5kYXIuZ29vZ2xlLmNvbQ.3d25mp3vv0oa92slersj5pb8an&hs=121

7:30 PM to 8:30 PM

Varsity Boys Basketball @ Oakridge High School

This event has a Google Hangouts video call. Join: https://hangouts.google.com/hangouts/_/mapsk12.org/varsity-boys?hceid=bWFwc2sxMi5vcmdfOTg2b3Nmb20yY3BwdHRxOWd1cnVzNzhrNjBAZ3JvdXAuY2FsZW5kYXIuZ29vZ2xlLmNvbQ.0roba6fc1sfd0b3h1g7merf4kt&hs=121

20

Dec 20

This event has a Google Hangouts video call. Join: https://hangouts.google.com/hangouts/_/mapsk12.org/browns?hceid=bWFwc2sxMi5vcmdfc2pxY3JpcjdvNG1uMXQyYTcxODJvNzRzYm9AZ3JvdXAuY2FsZW5kYXIuZ29vZ2xlLmNvbQ.7qc8p0cg8oo8jf4otabp6iospi&hs=121

5:30 PM to 6:30 PM

JV Girls Basketball @ Whitehall High School

This event has a Google Hangouts video call. Join: https://hangouts.google.com/hangouts/_/mapsk12.org/jv-girls?hceid=bWFwc2sxMi5vcmdfOTg2b3Nmb20yY3BwdHRxOWd1cnVzNzhrNjBAZ3JvdXAuY2FsZW5kYXIuZ29vZ2xlLmNvbQ.1g7shp2dcutpbgstg5tplelvh5&hs=121

7:00 PM to 8:00 PM

Varsity Girls Basketball @ Whitehall High School

This event has a Google Hangouts video call. Join: https://hangouts.google.com/hangouts/_/mapsk12.org/varsity-girls?hceid=bWFwc2sxMi5vcmdfOTg2b3Nmb20yY3BwdHRxOWd1cnVzNzhrNjBAZ3JvdXAuY2FsZW5kYXIuZ29vZ2xlLmNvbQ.7pacsd07nt9as7f50185l4jgqc&hs=121

21

Dec 21

9:00 AM to 3:00 PM

MS Competitive Cheer @ Reeths-Puffer

Location:

Reeths-Puffer High School

9:00 AM to 4:00 PM

MHS Wrestling @ Montabella High School (Elementary Gym)

Mustang Round Robin This event has a Google Hangouts video call. Join: https://hangouts.google.com/hangouts/_/mapsk12.org/mhs-wrestling?hceid=bWFwc2sxMi5vcmdfOTg2b3Nmb20yY3BwdHRxOWd1cnVzNzhrNjBAZ3JvdXAuY2FsZW5kYXIuZ29vZ2xlLmNvbQ.7js3vs40javbrikg65qv5mvd7a&hs=121

1:00 PM to 2:00 PM

Competitive Cheer @ Reeths Puffer High School

This event has a Google Hangouts video call. Join: https://hangouts.google.com/hangouts/_/mapsk12.org/competitive?hceid=bWFwc2sxMi5vcmdfOTg2b3Nmb20yY3BwdHRxOWd1cnVzNzhrNjBAZ3JvdXAuY2FsZW5kYXIuZ29vZ2xlLmNvbQ.1t9ok0p2pistd3mibc511p463u&hs=121

22
23

Dec 23

No School - Christmas Break

This event has a Google Hangouts video call. Join: https://hangouts.google.com/hangouts/_/mapsk12.org/browns?hceid=bWFwc2sxMi5vcmdfc2pxY3JpcjdvNG1uMXQyYTcxODJvNzRzYm9AZ3JvdXAuY2FsZW5kYXIuZ29vZ2xlLmNvbQ.73kdianc9bkl5mt0tu26utfmvd&hs=121

24

Dec 24

No School - Christmas Break

This event has a Google Hangouts video call. Join: https://hangouts.google.com/hangouts/_/mapsk12.org/browns?hceid=bWFwc2sxMi5vcmdfc2pxY3JpcjdvNG1uMXQyYTcxODJvNzRzYm9AZ3JvdXAuY2FsZW5kYXIuZ29vZ2xlLmNvbQ.73kdianc9bkl5mt0tu26utfmvd&hs=121

25

Dec 25

No School - Christmas Break

This event has a Google Hangouts video call. Join: https://hangouts.google.com/hangouts/_/mapsk12.org/browns?hceid=bWFwc2sxMi5vcmdfc2pxY3JpcjdvNG1uMXQyYTcxODJvNzRzYm9AZ3JvdXAuY2FsZW5kYXIuZ29vZ2xlLmNvbQ.73kdianc9bkl5mt0tu26utfmvd&hs=121

26

Dec 26

No School - Christmas Break

This event has a Google Hangouts video call. Join: https://hangouts.google.com/hangouts/_/mapsk12.org/browns?hceid=bWFwc2sxMi5vcmdfc2pxY3JpcjdvNG1uMXQyYTcxODJvNzRzYm9AZ3JvdXAuY2FsZW5kYXIuZ29vZ2xlLmNvbQ.73kdianc9bkl5mt0tu26utfmvd&hs=121

27

Dec 27

No School - Christmas Break

This event has a Google Hangouts video call. Join: https://hangouts.google.com/hangouts/_/mapsk12.org/browns?hceid=bWFwc2sxMi5vcmdfc2pxY3JpcjdvNG1uMXQyYTcxODJvNzRzYm9AZ3JvdXAuY2FsZW5kYXIuZ29vZ2xlLmNvbQ.73kdianc9bkl5mt0tu26utfmvd&hs=121

28

Dec 28

9:00 AM to 4:00 PM

Home MHS Wrestling Meet, Mat Cat Holiday Classic

This event has a Google Hangouts video call. Join: https://hangouts.google.com/hangouts/_/mapsk12.org/home-mhs?hceid=bWFwc2sxMi5vcmdfOTg2b3Nmb20yY3BwdHRxOWd1cnVzNzhrNjBAZ3JvdXAuY2FsZW5kYXIuZ29vZ2xlLmNvbQ.4vnocmkqagfoori4c4r62bf3i4&hs=121

29
30

Dec 30

No School - Christmas Break

This event has a Google Hangouts video call. Join: https://hangouts.google.com/hangouts/_/mapsk12.org/browns?hceid=bWFwc2sxMi5vcmdfc2pxY3JpcjdvNG1uMXQyYTcxODJvNzRzYm9AZ3JvdXAuY2FsZW5kYXIuZ29vZ2xlLmNvbQ.1fu52948n2tinu5silvpqktocv&hs=121

31

Dec 31

No School - Christmas Break

This event has a Google Hangouts video call. Join: https://hangouts.google.com/hangouts/_/mapsk12.org/browns?hceid=bWFwc2sxMi5vcmdfc2pxY3JpcjdvNG1uMXQyYTcxODJvNzRzYm9AZ3JvdXAuY2FsZW5kYXIuZ29vZ2xlLmNvbQ.1fu52948n2tinu5silvpqktocv&hs=121
MAPS News
December 4, 2019
Upcoming Concerts
We are celebrating the upcoming holidays with some fun Christmas Concerts!
December 3, 2019
Finance Committee Meeting
The Board of Education will hold a Finance Committee Meeting on Monday, January 6 at 5:15 p.m. in the Central Office Conference Room. This is a rescheduled meeting from the originally scheduled December 9 meeting.
November 25, 2019
College Scorecard
The US Department of Education rolled out their newly updated and expanded College Scorecard.
November 25, 2019
Organizational Board Meeting
The January Organizational/Regular Board Meeting will take place on Monday, January 13 at 6:00 p.m. in the MHS CAT Lab.
November 21, 2019
New App Available
Our new App is available! Visit the App Store (iPhones) or Google Play Store (Android devices), search "Montague Area Public Schools", and download the app to easily access district information on your mobile device.
Mission Statement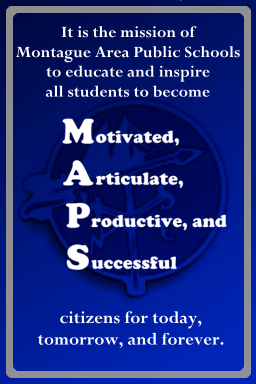 MAPS


MACC


RRO


NBC


MHS


2016 CTE Core Performance Indicators