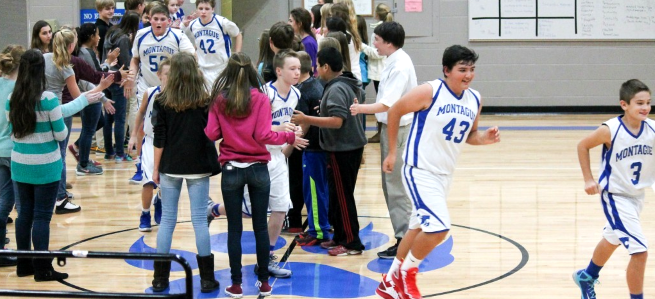 Welcome to Nellie B. Chisholm Middle School
Calendar

Previous

May

2022

Next

S
M
T
W
T
F
S
1
2

May 2

4:00 PM to 6:00 PM

NBC track home Vs. Whitehall

3
4

May 4

4:00 PM to 6:00 PM

NBC track home VS. Ravenna Middle School

5
6
7
8
9

May 9

4:00 PM to 6:00 PM

6:00 PM to 7:00 PM

Regular Board Meeting

Calendar:

Board of Education

10
11

May 11

4:00 PM to 6:30 PM

12
13
14
15
16
17
18
19
20
21
22
23

May 23

7:30 AM to 8:30 AM

5th Grade Band Fitting - Morning

24

May 24

7:00 PM to 8:30 PM

NBC Middle School Band and Choir Concert

Location:

Center for the Arts at Montague High School, Montague, MI 49437, USA

This event has a video call. Join: https://meet.google.com/rus-kynp-xbb (US) +1 339-788-5576 PIN: 887376593#

25
26
27
28
29
30
31
WHAT'S HAPPENING AT N.B.C
Yearbooks
Yearbooks are still available to purchase online. Head to http://geskusphoto.com. When selecting the N.B.C selection under yearbook make sure to hit the spacebar between the N and the B otherwise our school won't populate for a selection. The cost is 10$.
Summer Camp
NBC is excited to introduce Camp Wildcat, a free summer program for our students. The camp like experience will take place right here at NBC led by MAPS instructors! This will be a great way to give you child an opportunity to interact with friends, get outside and get away from screens. Transportation to and from camp, breakfast and lunch are provided each day. Detailed information is included in the link /downloads/nbcmiddleschool/summercamp.pdf
7th Grade Field Trip Information
The 7th Grade Field trip is headed to Michigan Adventure Thursday, June 2nd. Transportation is by bus only. Bus departs the school at 9:30 a.m. and returns at approximately 4:30 p.m. Your student will need to be picked up from the middle school. The cost is 35$ and due ahead of time. You will also be responsible for sunscreen, money for snacks, and games. lunch is provided. Also bring a sling bag or small backpack to carry your items. Do no bring valuables as we are not responsible for lost or stolen items including cell phones, that are brought to the park . All items are brought at your own risk. Money is by May 20th. Additional information is included in the link ./downloads/nbcmiddleschool/7thgradefieldtrip.pdf
Whiz Kids Information
Whiz kids is an award given to any student who receives a minimum of a 3.4 for EACH of the first 3 quarters of the school year. This is not their cumulative GPA listed on the bottom of Powerschool. The Whiz Kids Ceremony will take place Thursday, May 12th at 6:00 pm at Montague High School. Auditorium.
8th Grade Field Trip Information:
The 8th Grade Class is planning their class field trip is heading to John Ball Zoo on Friday May 20. The cost is $15.00 which includes: Round trip transportation from NBC, admission to the zoo, and a sack lunch provided from NBC as well. The registration form that went home also has a class T shirt order form the cost is an additional $10. Sweatshirts are $25 . The order forms are due no late than March 22nd.
/downloads/nbcmiddleschool/8thgrfieldtrip2022.pdf
IMMUNIZATIONS
All 7th-grade students will need a copy of their OFFICIAL immunization record to start 7th grade. All immunizations or waivers must be up to date and on file before the first day of school. Immunizations can be up to date today but after a birthday they could be incomplete and need to be updated again. Please make sure that when you check with your doctor that they will be complete and up to date as of September 1st! IF YOUR CHILDS IMMUNIZATIONS ARE NOT UP TO DATE, THEY MAY NOT ATTEND SCHOOL. YOU MUST CONTACT THE MUSKEGON COUNTY HEALTH DEPT. TO OBTAIN A WAIVER TO BE ALLOWED WITHOUT IMMUNIZATIONS.
DHS OFFICE INFORMATION
The DHS office is located within NBC. You may contact Sara Lintjer at 231-981-4571