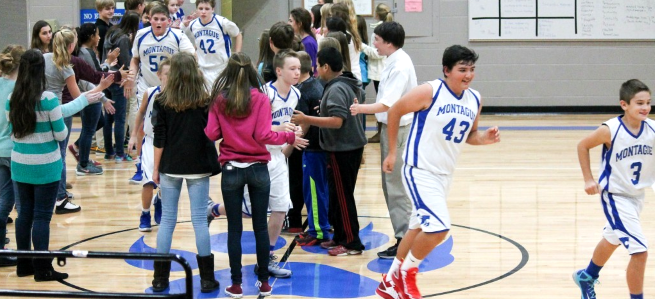 Welcome to Nellie B. Chisholm Middle School
Calendar

Previous

July

2021

Next

S
M
T
W
T
F
S
1
2
3
4
5
6
7
8
9
10
11
12

Jul 12

6:00 PM to 7:00 PM

Regular Board Meeting

Calendar:

Board of Education

13
14
15
16
17
18
19
20
21
22
23
24
25
26

Jul 26

6:00 PM to 7:00 PM

Policy Committee Meeting

Location:

Central Office Conference Room

Calendar:

Board of Education

27
28
29
30
31
What's Happening at NBC....
Summer Hours at NBC
The office will be open from 7:30 - 2:30 through June 18 , if you have an item that you are dropping off The lobby will be open until 4 pm, please use the drop box and be sure to include the student's name on the item you are returning, The office will re-open Monday August 9. If you have a question or concern over the summer please contact our central office at 231-893-1515.
CAMP WILDCAT SUMMER PROGRAM
N.B.C is excited to introduce Camp Wildcat, a free summer program for our students. The camp like experience will take place right here at N.B.C. led by MAPS instructors. Families can choose 1 of our 4 week sessions. Transportation, within the district, along with breakfast and lunch will be provided. click on the link for all the details. Sign up today! Spaces are limited to the first 40 participants.
/downloads/nbcmiddleschool/camp_wildcat_information_letter.pdf
SUMMER ACTIVITIES
NBC Middle School Girls Golf begins Tuesday, June 15 at Old Channel Trail Golf Course. Times to be determined. Open to all girls entering grades 6-9. Students do not need to have any prior experience or clubs. Students can come when it works for their schedule. This is not a commitment to play for the varsity team. all the details included in the link. /downloads/nbcmiddleschool/middle_school_golf.pdf
2021 White Lake Summer Tennis drills will be taking place this summer . There are two different classifications; Middle School Drills/Inter-City Team Instruction (Green Ball) for grades 5-6, also Middle school/High School Drills/Instruction for grades 7-12. Please clink on the link for all the details to sign up. /downloads/nbcmiddleschool/tennis_flyer.pdf.
Interested in learning sailing? White Lake Yacht Club is offering adult and youth sailing classes. Boats are provided or you can bring your own. Classes are taught by experienced instructors in conjunction with a program that has been running on White Lake since 1926. Attached is a flyer with all the information on upcoming classes. /downloads/nbcmiddleschool/wlss_poster_8.5_x_11.pdf
IMMUNIZATIONS
All 7th-grade students will need a copy of their OFFICIAL immunization record to start 7th grade. All immunizations or waivers must be up to date and on file before the first day of school. Immunizations can be up to date today but after a birthday they could be incomplete and need to be updated again. Please make sure that when you check with your doctor that they will be complete and up to date as of September 1st! IF YOUR CHILDS IMMUNIZATIONS ARE NOT UP TO DATE, THEY MAY NOT ATTEND SCHOOL. YOU MUST CONTACT THE MUSKEGON COUNTY HEALTH DEPT. TO OBTAIN A WAIVER TO BE ALLOWED WITHOUT IMMUNIZATIONS.
DHS OFFICE INFORMATION
The DHS office is currently operating remotely if you need assistance please contact Sara Lintjer at 231-327-2159