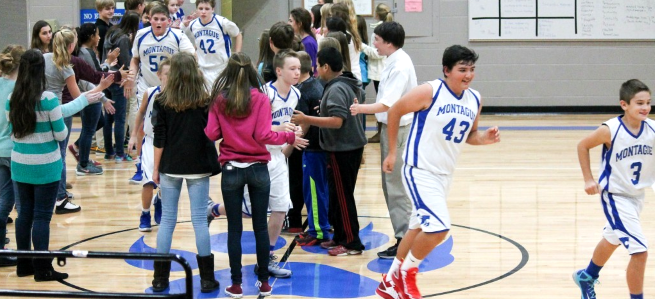 Welcome to Nellie B. Chisholm Middle School
Calendar

Previous

March

2021

Next

S
M
T
W
T
F
S
1
2

Mar 2

4:00 PM to 5:00 PM

Girls 7/8th Volleyball vs Whitehall Middle School

Location:

4700 Stanton Blvd., Montague MI 49437

Sport: Volleyball Level: Girls 7/8th Team: Montague NBC Middle School Site: Montague NBC Middle School Subsite: Gym

4:00 PM to 5:15 PM

Girls 7th Volleyball vs Whitehall Middle School

Location:

4700 Stanton Blvd., Montague MI 49437

Sport: Volleyball Level: Girls 7th Team: Montague NBC Middle School Site: Montague NBC Middle School Subsite: Gym

5:00 PM to 6:00 PM

Girls 7/8th Volleyball vs Whitehall Middle School

Location:

4700 Stanton Blvd., Montague MI 49437

Sport: Volleyball Level: Girls 7/8th Team: Montague NBC Middle School Site: Montague NBC Middle School Subsite: Gym

5:15 PM to 6:30 PM

Girls 8th Volleyball vs Whitehall Middle School

Location:

4700 Stanton Blvd., Montague MI 49437

Sport: Volleyball Level: Girls 8th Team: Montague NBC Middle School Site: Montague NBC Middle School Subsite: Gym

3
4

Mar 4

4:00 PM to 5:00 PM

Girls 7/8th Volleyball @ Oakridge Middle School

Location:

251 S. Wolf Lake Rd., Muskegon Michigan 49442

Sport: Volleyball Level: Girls 7/8th Team: Montague NBC Middle School Site: Oakridge Middle School Subsite: Gym

4:00 PM to 5:15 PM

Girls 7th Volleyball @ Oakridge Middle School

Location:

251 S. Wolf Lake Rd., Muskegon Michigan 49442

Sport: Volleyball Level: Girls 7th Team: Montague NBC Middle School Site: Oakridge Middle School Subsite: Gym

4:00 PM to 6:30 PM

Boys 6/7/8th Wrestling @ Orchard View High School

Location:

35 S. Sheridan, Muskegon MI 49442

Sport: Wrestling Level: Boys 6/7/8th Team: Montague NBC Middle School Site: Orchard View Middle School Subsite: Gym

5:15 PM to 6:30 PM

Girls 8th Volleyball @ Oakridge Middle School

Location:

251 S. Wolf Lake Rd., Muskegon Michigan 49442

Sport: Volleyball Level: Girls 8th Team: Montague NBC Middle School Site: Oakridge Middle School Subsite: Gym

5
6
7
8

Mar 8

6:00 PM to 7:00 PM

Regular Board Meeting

Calendar:

Board of Education

9

Mar 9

4:00 PM to 5:00 PM

Girls 7/8th Volleyball vs Ravenna Middle School

Location:

4700 Stanton Blvd., Montague MI 49437

Sport: Volleyball Level: Girls 7/8th Team: Montague NBC Middle School Site: Montague NBC Middle School Subsite: Gym

4:00 PM to 5:15 PM

Girls 7th Volleyball vs Ravenna Middle School

Location:

4700 Stanton Blvd., Montague MI 49437

Sport: Volleyball Level: Girls 7th Team: Montague NBC Middle School Site: Montague NBC Middle School Subsite: Gym

5:00 PM to 6:00 PM

Girls 7/8th Volleyball vs Ravenna Middle School

Location:

4700 Stanton Blvd., Montague MI 49437

Sport: Volleyball Level: Girls 7/8th Team: Montague NBC Middle School Site: Montague NBC Middle School Subsite: Gym

5:15 PM to 6:30 PM

Girls 8th Volleyball vs Ravenna Middle School

Location:

4700 Stanton Blvd., Montague MI 49437

Sport: Volleyball Level: Girls 8th Team: Montague NBC Middle School Site: Montague NBC Middle School Subsite: Gym

10

Mar 10

Full Day - Parent/Conferences

11

Mar 11

Half Day of School - Parent/Teacher Conferences

11:00 AM to 12:00 PM

Girls 7/8th Volleyball

Location:

(unknown) (unknown), (unknown) (unknown) (unknown)

Sport: Volleyball Level: Girls 7/8th Team: Montague NBC Middle School Site: TBA

4:00 PM to 5:15 PM

Girls 7th Volleyball @ Hart Middle School

Location:

308 Johnson St., Hart MI 49420

Sport: Volleyball Level: Girls 7th Team: Montague NBC Middle School Site: Hart Middle School Subsite: Gym

4:00 PM to 6:30 PM

Boys 6/7/8th Wrestling @ Shelby Middle School

Location:

525 N. State Street, Shelby MI 49455

Sport: Wrestling Level: Boys 6/7/8th Team: Montague NBC Middle School Site: Shelby Middle School Subsite: Gym

5:20 PM to 6:20 PM

Girls 8th Volleyball @ Hart Middle School

Location:

308 Johnson St., Hart MI 49420

Sport: Volleyball Level: Girls 8th Team: Montague NBC Middle School Site: Hart Middle School Subsite: Gym

12

Mar 12

12:00 PM to 2:30 PM

MASA Region 3 Meeting In Person

13
14
15
16

Mar 16

4:00 PM to 5:00 PM

Girls 7/8th Volleyball vs Mason County Central Middle School

Location:

4700 Stanton Blvd., Montague MI 49437

Sport: Volleyball Level: Girls 7/8th Team: Montague NBC Middle School Site: Montague NBC Middle School Subsite: Gym

4:00 PM to 5:15 PM

Girls 7th Volleyball vs Mason County Central Middle School

Location:

4700 Stanton Blvd., Montague MI 49437

Sport: Volleyball Level: Girls 7th Team: Montague NBC Middle School Site: Montague NBC Middle School Subsite: Gym

5:00 PM to 6:00 PM

Girls 7/8th Volleyball vs Mason County Central Middle School

Location:

4700 Stanton Blvd., Montague MI 49437

Sport: Volleyball Level: Girls 7/8th Team: Montague NBC Middle School Site: Montague NBC Middle School Subsite: Gym

5:15 PM to 6:30 PM

Girls 8th Volleyball vs Mason County Central Middle School

Location:

4700 Stanton Blvd., Montague MI 49437

Sport: Volleyball Level: Girls 8th Team: Montague NBC Middle School Site: Montague NBC Middle School Subsite: Gym

17

Mar 17

4:00 PM to 6:00 PM

Boys 6/7/8th Wrestling vs Ravenna Middle School

Location:

4700 Stanton Blvd., Montague MI 49437

Sport: Wrestling Level: Boys 6/7/8th Team: Montague NBC Middle School Site: Montague NBC Middle School Subsite: Gym

18

Mar 18

4:00 PM to 5:15 PM

Girls 7th Volleyball @ Shelby Middle School

Location:

525 N. State Street, Shelby MI 49455

Sport: Volleyball Level: Girls 7th Team: Montague NBC Middle School Site: Shelby Middle School Subsite: Gym

5:15 PM to 6:45 PM

Girls 8th Volleyball @ Shelby Middle School

Location:

525 N. State Street, Shelby MI 49455

Sport: Volleyball Level: Girls 8th Team: Montague NBC Middle School Site: Shelby Middle School Subsite: Gym

19
20
21
22

Mar 22

4:00 PM to 5:15 PM

Girls 7th Volleyball vs Hart Middle School

Location:

4700 Stanton Blvd., Montague MI 49437

Sport: Volleyball Level: Girls 7th Team: Montague NBC Middle School Site: Montague NBC Middle School Subsite: Gym

5:25 PM to 6:25 PM

Girls 8th Volleyball vs Hart Middle School

Location:

4700 Stanton Blvd., Montague MI 49437

Sport: Volleyball Level: Girls 8th Team: Montague NBC Middle School Site: Montague NBC Middle School Subsite: Gym

23
24

Mar 24

4:00 PM to 5:15 PM

Girls 7th Volleyball @ Mason County Central Middle School

Location:

310 W Beryl, Scottville MI 49454

Sport: Volleyball Level: Girls 7th Team: Montague NBC Middle School Site: Mason County Central Middle School Subsite: Gym

5:15 PM to 6:30 PM

Girls 8th Volleyball @ Mason County Central Middle School

Location:

4700 Stanton Blvd., Montague MI 49437

Sport: Volleyball Level: Girls 8th Team: Montague NBC Middle School Site: Montague NBC Middle School Subsite: Gym

25

Mar 25

4:00 PM to 6:30 PM

Boys 6/7/8th Wrestling @ Hart Middle School

Location:

308 Johnson St., Hart MI 49420

Sport: Wrestling Level: Boys 6/7/8th Team: Montague NBC Middle School Site: Hart Middle School Subsite: Gym

26
27
28
29
30
31
SPRING CONFERENCES INFORMATION
Dear Parents,
This year we are scheduling Parent Teacher Conferences as a phone call conference due to our Covid safety guidelines. If you would like to request a Zoom conference in place of the phone call, please let your classroom teacher know and they will be happy to accommodate the request. Conferences will be held the evening of Wednesday, March 10 from 4:00pm-7:00pm and Thursday, March 11 from 12:00-3:00pm and 4:00-7:00pm.
Please click on the following link to sign up for a conference time with your child's teachers: https://ptcfast.com/schools/Montague_Area_Public_Schools
When you visit this website it will ask you to choose the teachers you would like to talk to and will then send you a link to view their schedule. Once you receive the link you can pick the time that is most convenient for you for each teacher you would like to visit. Be sure to list your name, your child's name, and a phone number when you register for a time. The site will give you a list of your conference times for your records.
On the day of your conference, we ask that you are ready to start your conference at the designated time you have selected. Please be prepared with any questions or concerns you would like to address with the teacher during the conference.
Teachers will call you at the number you have indicated on the PTCFast website. If the dates and times provided will not work for you, please contact your child's teacher to identify an alternate time to talk.
If you have any further questions please feel free to contact me at perreaultj@mapsk12.org or call the office at 231-894-5617
Sincerely,
Jim Perreault
N.B.C. OFFICE SAFETY PROCEDURES
The health and safety of our students and staff is our number one priority here at N.B.C, with that in mind, we are asking that you refrain from coming into the building unless absolutely necessary.
If your student is coming in late, leaving early, or has an appointment during the day, please send in a note, with the pertinent information. When coming to pick him/her please call the office at 231-894-5617 prior to arriving and we will send your student out to your vehicle. If you are dropping off a forgotten item; gym shoes, lunch etc, contact the office and leave it in the lobby, we will retrieve the item, and make sure your student receives it promptly.
Virtual students, your guided notes will continue to be in the lobby,
Thank you all for your help in staying healthy and staying open!
IMMUNIZATIONS
All 7th-grade students will need a copy of their OFFICIAL immunization record to start 7th grade. All immunizations or waivers must be up to date and on file before the first day of school. Immunizations can be up to date today but after a birthday they could be incomplete and need to be updated again. Please make sure that when you check with your doctor that they will be complete and up to date as of September 1st! IF YOUR CHILDS IMMUNIZATIONS ARE NOT UP TO DATE, THEY MAY NOT ATTEND SCHOOL. YOU MUST CONTACT THE MUSKEGON COUNTY HEALTH DEPT. TO OBTAIN A WAIVER TO BE ALLOWED WITHOUT IMMUNIZATIONS.
ATTENDANCE
If your child is going to be absent from school please be sure to either email Melissa Raiche at raichem@mapsk12.org, or you may call the office anytime at 231-981-4570. Please indicate reason for the illness sickness, etc.
DHS OFFICE INFORMATION
The DHS office is currently operating remotely if you need assistance please contact Sara Lintjer at 231-327-2159