Welcome to R.R. Oehrli Elementary School
‹

February

2017

›

S
M
T
W
T
F
S
1
2
3
4
5
6
7
8

Feb 8

Early Release: All Buildings Release 1 Hour Early

District

9
10
11
12
13
14
15

Feb 15

Early Release: All Buildings Release 1 Hour Early

District

8:50 AM to 12:00 PM

3rd Grade Class to Pool School

Muskegon High School, 80 W Southern Ave, Muskegon, MI 49441, USA

RRO Calendar

16
17

Feb 17

1/2 Day All Students - Mid-Winter Break

District

Half day AM schedule

RRO Calendar

18
19
20

Feb 20

No School - Mid-Winter Break

District

21
22

Feb 22

Early Release: All Buildings Release 1 Hour Early

District

8:50 AM to 12:00 PM

3rd Grade Class to Pool School

Muskegon High School, 80 W Southern Ave, Muskegon, MI 49441, USA

RRO Calendar

23
24
25

Feb 25

4:00 PM to 7:00 PM

RRO Carnival

Oehrli Elementary School, 4859 Knudsen St, Montague, MI 49437, USA

RRO Calendar

26
27

Feb 27

6:00 PM to 7:00 PM

Regular Board Meeting

MHS CAT Lab

Board of Education

28
February 9, 2017
Being Nice at RRO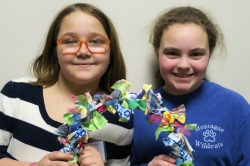 RRO introduced our "Be Nice" initiative with an assembly January 20. Videos, songs and t-shirts emphasized the power of kindness in our school. Kindness wreaths were given to each RRO room. When students or staff see kind behavior they record this on one of the leaves of the wreath.
February 2, 2017
Kindergarten Round Up
Mark your calendars for Kindergarten Round Up on Tuesday, March 14th at 6:30 p.m. at the Montague Area Childhood Center. If you have a child who will turn 5 on or before September 1, 2017, your child is eligible to enroll in Kindergarten for the 2017-2018 school year.