Upcoming Events
Calendar

‹

December

2018

›

S
M
T
W
T
F
S
1

Dec 1

Christmas Parade

MHS Calendar

This event has a Google Hangouts video call. Join: https://hangouts.google.com/hangouts/_/mapsk12.org/christmas?hceid=bWFwc2sxMi5vcmdfNjF0bGl1dm8zaHNqbnNuNjJzYTUzaG5rMXNAZ3JvdXAuY2FsZW5kYXIuZ29vZ2xlLmNvbQ.5tnnfqdehqfd0q5ble75lg3b3h&hs=121

8:00 AM to 2:00 PM

7/8 Solo Ensemble Festival

Coopersville, MI 49404, USA

NBC Calendar

This event has a Google Hangouts video call. Join: https://hangouts.google.com/hangouts/_/mapsk12.org/greenwoode?hceid=bWFwc2sxMi5vcmdfNjFqcHRkbnRhczZ0MXVlbmh2Z2JodGFnYzRAZ3JvdXAuY2FsZW5kYXIuZ29vZ2xlLmNvbQ.5u743j99cbo9kisdcl0l4i1376&hs=121

4:00 PM to 6:00 PM

Michigan Youth Ballet presents The Nutcracker Ballet

Center for the Arts at Montague High School, Montague, MI 49437, USA

MHS Calendar

This event has a Google Hangouts video call. Join: https://hangouts.google.com/hangouts/_/mapsk12.org/browns-cederqui?hceid=bWFwc2sxMi5vcmdfNjF0bGl1dm8zaHNqbnNuNjJzYTUzaG5rMXNAZ3JvdXAuY2FsZW5kYXIuZ29vZ2xlLmNvbQ.5hrsq4m0thnhtic9fkt1i4aasv&hs=121

7:00 PM to 9:00 PM

Michigan Youth Ballet presents The Nutcracker Ballet

Center for the Arts at Montague High School, Montague, MI 49437, USA

MHS Calendar

This event has a Google Hangouts video call. Join: https://hangouts.google.com/hangouts/_/mapsk12.org/browns-cederqui?hceid=bWFwc2sxMi5vcmdfNjF0bGl1dm8zaHNqbnNuNjJzYTUzaG5rMXNAZ3JvdXAuY2FsZW5kYXIuZ29vZ2xlLmNvbQ.02b0i7js2vgph9d1qe9hqvvput&hs=121

2

Dec 2

3:00 PM to 5:00 PM

Michigan Youth Ballet presents The Nutcracker Ballet

Center for the Arts at Montague High School, Montague, MI 49437, USA

MHS Calendar

This event has a Google Hangouts video call. Join: https://hangouts.google.com/hangouts/_/mapsk12.org/browns-cederqui?hceid=bWFwc2sxMi5vcmdfNjF0bGl1dm8zaHNqbnNuNjJzYTUzaG5rMXNAZ3JvdXAuY2FsZW5kYXIuZ29vZ2xlLmNvbQ.49rbp0ar64hj2i9cjb4hgmelb1&hs=121

3

Dec 3

4:00 PM to 5:00 PM

MS Boys' Basketball @ MCC

MS Athletics

4

Dec 4

7:30 AM to 2:30 PM

8th Grade-Foundry in a Box

NBC Calendar

This event has a Google Hangouts video call. Join: https://hangouts.google.com/hangouts/_/mapsk12.org/halversonj?hceid=bWFwc2sxMi5vcmdfNjFqcHRkbnRhczZ0MXVlbmh2Z2JodGFnYzRAZ3JvdXAuY2FsZW5kYXIuZ29vZ2xlLmNvbQ.0hfklgjissjbbavl26gbs3p1kc&hs=121

5:30 PM to 7:00 PM

Boys JV Bball vs West Michigan Aviation

Montague High School, 4900 Stanton Blvd, Montague, MI 49437, USA

HS Athletics

West Michigan Aviation Academy

5:30 PM to 7:00 PM

Girls JV Bball vs Fremont

Fremont High School

HS Athletics

7:00 PM to 9:00 PM

Boys Varsity Bball vs West Mich Aviation

Montague High School, 4900 Stanton Blvd, Montague, MI 49437, USA

HS Athletics

West Michigan Aviation Academy

7:00 PM to 9:00 PM

Girls Varsity Bball vs Fremont

Fremont High School

HS Athletics

5

Dec 5

Early Release - All Buildings Release 1 Hour Early

District

This event has a Google Hangouts video call. Join: https://hangouts.google.com/hangouts/_/mapsk12.org/early-release?hceid=bWFwc2sxMi5vcmdfc2pxY3JpcjdvNG1uMXQyYTcxODJvNzRzYm9AZ3JvdXAuY2FsZW5kYXIuZ29vZ2xlLmNvbQ.7j3n900ktr37f0oai25q45r3p9&hs=121

4:00 PM to 5:00 PM

MS Boys' Basketball @ Shelby

MS Athletics

5:00 PM to 9:00 PM

Wrestling vs Orchard View

Orchard View High School

HS Athletics

Orchard View High School and 2 others

6:00 PM to 9:30 PM

WL Chorale pract

Center for the Arts at Montague High School, Montague, MI 49437, USA

MHS Calendar

This event has a Google Hangouts video call. Join: https://hangouts.google.com/hangouts/_/mapsk12.org/gormand?hceid=Z29ybWFuZEBtYXBzazEyLm9yZw.5psmgdb7unkv10tdmf2d7trd8e&hs=121

6

Dec 6

5:30 PM to 7:00 PM

Girls JV Bball vs Oakridge

Montague High School

HS Athletics

7:00 PM to 9:00 PM

Girls Varsity Bball vs Oakridge

Montague High School, 4900 Stanton Blvd, Montague, MI 49437, USA

HS Athletics

7

Dec 7

5:00 PM to 9:00 PM

JV Wrestling vs Mona Shores

Mona Shores High School

HS Athletics

5:30 PM to 7:00 PM

Boys JV Bball vs Ravenna

Montague High School

HS Athletics

7:00 PM to 9:00 PM

Boys Varsity Bball vs Ravenna

Montague High School

HS Athletics

8

Dec 8

10:30 AM to 3:00 PM

Varsity Wrestling vs Hemlock High

Hemlock High School, 733 N Hemlock Rd, Hemlock, MI 48626, USA

HS Athletics

This event has a Google Hangouts video call. Join: https://hangouts.google.com/hangouts/_/mapsk12.org/raethk?hceid=bWFwc2sxMi5vcmdfOTg2b3Nmb20yY3BwdHRxOWd1cnVzNzhrNjBAZ3JvdXAuY2FsZW5kYXIuZ29vZ2xlLmNvbQ.14htrp2e7g6mr79av3egdoj040&hs=121

4:00 PM to 6:00 PM

White Lake Chorale Christmas Concert

Center for the Arts at Montague High School, Montague, MI 49437, USA

MHS Calendar

This event has a Google Hangouts video call. Join: https://hangouts.google.com/hangouts/_/mapsk12.org/gormand?hceid=Z29ybWFuZEBtYXBzazEyLm9yZw.5k2hkudng3rqp0dpjcs7gq3qmh&hs=121

9
10

Dec 10

9:00 AM to 10:00 AM

RRO 5th grade Concert practice

Center for the Arts at Montague High School, Montague, MI 49437, USA

MHS Calendar

This event has a Google Hangouts video call. Join: https://hangouts.google.com/hangouts/_/mapsk12.org/rro-5th-grade?hceid=bWFwc2sxMi5vcmdfNjF0bGl1dm8zaHNqbnNuNjJzYTUzaG5rMXNAZ3JvdXAuY2FsZW5kYXIuZ29vZ2xlLmNvbQ.1r87af839rnn431e0qette4e8b&hs=121

4:00 PM to 5:00 PM

MS Boys' Basketball Tournament

To Be Determined

MS Athletics

5:30 PM to 6:00 PM

Finance Committee Meeting

Central Office Conference Room

Board of Education

5:30 PM to 7:00 PM

Boys JV Bball vs Fremont

Fremont High School

HS Athletics

6:00 PM to 7:00 PM

Regular Board Meeting

MHS CAT Lab

Board of Education

7:00 PM to 9:00 PM

Boys Varsity Bball vs Fremont

Fremont High School

HS Athletics

11

Dec 11

9:00 AM to 10:00 AM

RRO 5th grade Concert practice

Center for the Arts at Montague High School, Montague, MI 49437, USA

MHS Calendar

This event has a Google Hangouts video call. Join: https://hangouts.google.com/hangouts/_/mapsk12.org/rro-5th-grade?hceid=bWFwc2sxMi5vcmdfNjF0bGl1dm8zaHNqbnNuNjJzYTUzaG5rMXNAZ3JvdXAuY2FsZW5kYXIuZ29vZ2xlLmNvbQ.1r87af839rnn431e0qette4e8b&hs=121

5:30 PM to 7:00 PM

Girls JV Bball vs Mason CC

Montague High School, 4900 Stanton Blvd, Montague, MI 49437, USA

HS Athletics

Mason Co Central High School

7:00 PM to 8:00 PM

5th Grade Concert

Montague High School, 4900 Stanton Blvd, Montague, MI 49437, USA

RRO Calendar

This event has a Google Hangouts video call. Join: https://hangouts.google.com/hangouts/_/mapsk12.org/hedrickd?hceid=bWFwc2sxMi5vcmdfOGRtdGRkYzVwNmYzdW8zYjJqZ2tobmxlaTBAZ3JvdXAuY2FsZW5kYXIuZ29vZ2xlLmNvbQ.6pt08u6ao8nvaahteibsbt768p&hs=121

7:00 PM to 8:00 PM

RRO 5th Grade Concert

MHS Calendar

This event has a Google Hangouts video call. Join: https://hangouts.google.com/hangouts/_/mapsk12.org/rro-5th-grade?hceid=bWFwc2sxMi5vcmdfNjF0bGl1dm8zaHNqbnNuNjJzYTUzaG5rMXNAZ3JvdXAuY2FsZW5kYXIuZ29vZ2xlLmNvbQ.73rmkufg5o4o6m4qflidqo4qpo&hs=121

7:00 PM to 9:00 PM

Girls Varsity Bball vs Mason CC

Montague High School, 4900 Stanton Blvd, Montague, MI 49437, USA

HS Athletics

Mason Co Central High School

12

Dec 12

Early Release - All Buildings Release 1 Hour Early

District

This event has a Google Hangouts video call. Join: https://hangouts.google.com/hangouts/_/mapsk12.org/early-release?hceid=bWFwc2sxMi5vcmdfc2pxY3JpcjdvNG1uMXQyYTcxODJvNzRzYm9AZ3JvdXAuY2FsZW5kYXIuZ29vZ2xlLmNvbQ.7j3n900ktr37f0oai25q45r3p9&hs=121

4:00 PM to 5:00 PM

MS Boys' Basketball Tournament

7th grade - away; 8th grade - home

MS Athletics

13

Dec 13

4:00 PM to 5:00 PM

MS Boys' Basketball Tournament Finals @ Home

MS Athletics

5:30 PM to 7:00 PM

Boys JV Bball vs Oakridge

Montague High School

HS Athletics

7:00 PM to 9:00 PM

Boys Varsity Bball vs Oakridge

Montague High School

HS Athletics

14

Dec 14

5:00 PM to 9:00 PM

Wrestling vs Mason CC

Mason Co Central High School

HS Athletics

Mason Co Central High School

5:30 PM to 7:00 PM

Girls JV Bball vs Whitehall

Montague High School

HS Athletics

7:00 PM to 9:00 PM

Girls Varsity Bball vs Whitehall

Montague High School

HS Athletics

15

Dec 15

9:30 AM to 3:00 PM

Wrestling Bosse Invite

Hart High School

HS Athletics

Bosse Wrestling Invitational (14 Participants)

16

Dec 16

3:00 PM to 4:00 PM

MHS & NBC Christmas Concert

Center for the Arts at Montague High School, Montague, MI 49437, USA

NBC Calendar

This event has a Google Hangouts video call. Join: https://hangouts.google.com/hangouts/_/mapsk12.org/mhs-nbc?hceid=bWFwc2sxMi5vcmdfNjFqcHRkbnRhczZ0MXVlbmh2Z2JodGFnYzRAZ3JvdXAuY2FsZW5kYXIuZ29vZ2xlLmNvbQ.4qpsl745avu1orm7ajvm3n81dc&hs=121

3:00 PM to 4:00 PM

MHS & NBC Christmas Concert

Center for the Arts at Montague High School, Montague, MI 49437, USA

MHS Calendar

This event has a Google Hangouts video call. Join: https://hangouts.google.com/hangouts/_/mapsk12.org/mhs-nbc?hceid=bWFwc2sxMi5vcmdfNjF0bGl1dm8zaHNqbnNuNjJzYTUzaG5rMXNAZ3JvdXAuY2FsZW5kYXIuZ29vZ2xlLmNvbQ.4i75j400n588899141501e5qac&hs=121

17

Dec 17

5:30 PM to 7:00 PM

Girls JV Bball vs Tri-Unity

Montague High School

HS Athletics

Tri-unity Christian High School

7:00 PM to 9:00 PM

Girls Varsity Bball vs Tri-Unity

Montague High School

HS Athletics

Tri-unity Christian High School

18

Dec 18

8:30 AM to 9:30 AM

MHS Speaker Series

MHS Calendar

This event has a Google Hangouts video call. Join: https://hangouts.google.com/hangouts/_/mapsk12.org/gormand?hceid=Z29ybWFuZEBtYXBzazEyLm9yZw.45nsthgu0hvoc9i6b8pamt3m1s&hs=121

5:30 PM to 7:00 PM

Boys JV Bball vs Mason CC

Montague High School

HS Athletics

Mason Co Central High School

7:00 PM to 9:00 PM

Boys Varsity Bball vs Mason CC

Montague High School

HS Athletics

Mason Co Central High School

19

Dec 19

Early Release - All Buildings Release 1 Hour Early

District

This event has a Google Hangouts video call. Join: https://hangouts.google.com/hangouts/_/mapsk12.org/early-release?hceid=bWFwc2sxMi5vcmdfc2pxY3JpcjdvNG1uMXQyYTcxODJvNzRzYm9AZ3JvdXAuY2FsZW5kYXIuZ29vZ2xlLmNvbQ.7j3n900ktr37f0oai25q45r3p9&hs=121

MS Competitive Cheer @ Mona Shores

MS Athletics

6:30 PM to 9:00 PM

Competitive Cheer vs Mona Shores

Montague High School

HS Athletics

20

Dec 20

1:00 PM to 3:30 PM

4th Grade Regions Fair

gym

RRO Calendar

This event has a Google Hangouts video call. Join: https://hangouts.google.com/hangouts/_/mapsk12.org/hedrickd?hceid=bWFwc2sxMi5vcmdfOGRtdGRkYzVwNmYzdW8zYjJqZ2tobmxlaTBAZ3JvdXAuY2FsZW5kYXIuZ29vZ2xlLmNvbQ.5qrpqkdico6otdgn3ve80bvg8b&hs=121

5:30 PM to 7:00 PM

Girls JV Bball vs North Muskegon

Montague High School

HS Athletics

North Muskegon High School

5:30 PM to 9:00 PM

Wrestling vs Montabella

Montabella High School

HS Athletics

7:00 PM to 8:00 PM

NBC MHS Choir Concert

Center for the Arts at Montague High School, Montague, MI 49437, USA

MHS Calendar

This event has a Google Hangouts video call. Join: https://hangouts.google.com/hangouts/_/mapsk12.org/nbc-mhs-choir?hceid=bWFwc2sxMi5vcmdfNjF0bGl1dm8zaHNqbnNuNjJzYTUzaG5rMXNAZ3JvdXAuY2FsZW5kYXIuZ29vZ2xlLmNvbQ.5t1gttjbkbcf3re57jqkm40qak&hs=121

7:00 PM to 9:00 PM

Girls Varsity Bball vs North Muskegon

Montague High School

HS Athletics

North Muskegon High School

21

Dec 21

1/2 Day For Students

District

This event has a Google Hangouts video call. Join: https://hangouts.google.com/hangouts/_/mapsk12.org/1-2-day-for?hceid=bWFwc2sxMi5vcmdfc2pxY3JpcjdvNG1uMXQyYTcxODJvNzRzYm9AZ3JvdXAuY2FsZW5kYXIuZ29vZ2xlLmNvbQ.5b7oe7ukdbofltkml3asj1du6g&hs=121

5:00 PM to 9:00 PM

JV Wrestling vs Lee High

NBC Middle School, 4700 Stanton Blvd, Montague, MI 49437, USA

HS Athletics

5:30 PM to 7:00 PM

Boys JV Bball vs Whitehall

Montague High School

HS Athletics

7:00 PM to 9:00 PM

Boys Varsity Bball vs Whitehall

Montague High School

HS Athletics

22
23
24

Dec 24

No School - Christmas Break

District

This event has a Google Hangouts video call. Join: https://hangouts.google.com/hangouts/_/mapsk12.org/no-school?hceid=bWFwc2sxMi5vcmdfc2pxY3JpcjdvNG1uMXQyYTcxODJvNzRzYm9AZ3JvdXAuY2FsZW5kYXIuZ29vZ2xlLmNvbQ.3mri2onovpo5rinobuj970b0no&hs=121

25

Dec 25

No School - Christmas Break

District

This event has a Google Hangouts video call. Join: https://hangouts.google.com/hangouts/_/mapsk12.org/no-school?hceid=bWFwc2sxMi5vcmdfc2pxY3JpcjdvNG1uMXQyYTcxODJvNzRzYm9AZ3JvdXAuY2FsZW5kYXIuZ29vZ2xlLmNvbQ.3mri2onovpo5rinobuj970b0no&hs=121

26

Dec 26

No School - Christmas Break

District

This event has a Google Hangouts video call. Join: https://hangouts.google.com/hangouts/_/mapsk12.org/no-school?hceid=bWFwc2sxMi5vcmdfc2pxY3JpcjdvNG1uMXQyYTcxODJvNzRzYm9AZ3JvdXAuY2FsZW5kYXIuZ29vZ2xlLmNvbQ.3mri2onovpo5rinobuj970b0no&hs=121

27

Dec 27

No School - Christmas Break

District

This event has a Google Hangouts video call. Join: https://hangouts.google.com/hangouts/_/mapsk12.org/no-school?hceid=bWFwc2sxMi5vcmdfc2pxY3JpcjdvNG1uMXQyYTcxODJvNzRzYm9AZ3JvdXAuY2FsZW5kYXIuZ29vZ2xlLmNvbQ.3mri2onovpo5rinobuj970b0no&hs=121

28

Dec 28

No School - Christmas Break

District

This event has a Google Hangouts video call. Join: https://hangouts.google.com/hangouts/_/mapsk12.org/no-school?hceid=bWFwc2sxMi5vcmdfc2pxY3JpcjdvNG1uMXQyYTcxODJvNzRzYm9AZ3JvdXAuY2FsZW5kYXIuZ29vZ2xlLmNvbQ.3mri2onovpo5rinobuj970b0no&hs=121

9:00 AM to 3:00 PM

Wrestling Holiday Mat Cat Classic

Montague High School

HS Athletics

Holiday Mat Cat Classic (12 Participants)

29

Dec 29

No School - Christmas Break

District

This event has a Google Hangouts video call. Join: https://hangouts.google.com/hangouts/_/mapsk12.org/no-school?hceid=bWFwc2sxMi5vcmdfc2pxY3JpcjdvNG1uMXQyYTcxODJvNzRzYm9AZ3JvdXAuY2FsZW5kYXIuZ29vZ2xlLmNvbQ.3mri2onovpo5rinobuj970b0no&hs=121

30

Dec 30

No School - Christmas Break

District

This event has a Google Hangouts video call. Join: https://hangouts.google.com/hangouts/_/mapsk12.org/no-school?hceid=bWFwc2sxMi5vcmdfc2pxY3JpcjdvNG1uMXQyYTcxODJvNzRzYm9AZ3JvdXAuY2FsZW5kYXIuZ29vZ2xlLmNvbQ.3mri2onovpo5rinobuj970b0no&hs=121

31

Dec 31

No School - Christmas Break

District

This event has a Google Hangouts video call. Join: https://hangouts.google.com/hangouts/_/mapsk12.org/no-school?hceid=bWFwc2sxMi5vcmdfc2pxY3JpcjdvNG1uMXQyYTcxODJvNzRzYm9AZ3JvdXAuY2FsZW5kYXIuZ29vZ2xlLmNvbQ.3mri2onovpo5rinobuj970b0no&hs=121
MAPS News
December 6, 2018
Wildcat Gear
Montague football championship clothing makes a great gift. Orders submitted to the Montague High School office by Friday, December 14 will be available prior to Christmas Break.
December 3, 2018
Additional Secure Entrances
In an effort to provide a secure learning environment, Montague Area Public Schools has recently added some additional secure entrances equipped with buzzer systems to our buildings.
December 3, 2018
Superintendent's Message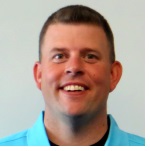 Montague Area Public Schools is an outstanding school system with dedicated students, highly qualified staff, administration, Board of Education, parents, and community committed to providing the best educational programs.
November 27, 2018
Christmas Break
Christmas Break will take place Monday, December 24 though Friday, January 4.  Students will return to the classroom on Monday, January 7.
November 26, 2018
Organizational Board Meeting
The January Organizational/Regular Board Meeting will take place on Monday, January 14 at 6:00 p.m. in the MHS CAT Lab.
Mission Statement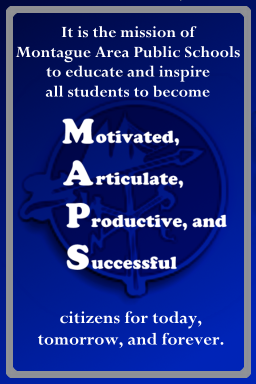 MAPS


MACC


RRO


NBC


MHS


2016 CTE Core Performance Indicators



Annual Reports
Annual Reports, 2014-2015: