Upcoming Events
Calendar

‹

November

2018

›

S
M
T
W
T
F
S
1

Nov 1

7:00 PM to 9:00 PM

Volleyball Districts

Orchard View High School, 16 N Quarterline Rd, Muskegon, MI 49442, USA

HS Athletics

This event has a Google Hangouts video call. Join: https://hangouts.google.com/hangouts/_/mapsk12.org/raethk?hceid=bWFwc2sxMi5vcmdfOTg2b3Nmb20yY3BwdHRxOWd1cnVzNzhrNjBAZ3JvdXAuY2FsZW5kYXIuZ29vZ2xlLmNvbQ.1rsmuuu4pg6902ict361p3gc5k&hs=121

2
3

Nov 3

10:00 AM to 12:00 PM

Volleyball Districts

Orchard View High School, 16 N Quarterline Rd, Muskegon, MI 49442, USA

HS Athletics

This event has a Google Hangouts video call. Join: https://hangouts.google.com/hangouts/_/mapsk12.org/raethk?hceid=bWFwc2sxMi5vcmdfOTg2b3Nmb20yY3BwdHRxOWd1cnVzNzhrNjBAZ3JvdXAuY2FsZW5kYXIuZ29vZ2xlLmNvbQ.6bn8ovcfafidnh01131dva8anb&hs=121

1:00 PM to 3:00 PM

Football Playoffs vs Newaygo

Montague High School, 4900 Stanton Blvd, Montague, MI 49437, USA

HS Athletics

4
5

Nov 5

3:00 PM to 5:00 PM

Set up Academic Awards

MHS Calendar

This event has a Google Hangouts video call. Join: https://hangouts.google.com/hangouts/_/mapsk12.org/gormand?hceid=bWFwc2sxMi5vcmdfNjF0bGl1dm8zaHNqbnNuNjJzYTUzaG5rMXNAZ3JvdXAuY2FsZW5kYXIuZ29vZ2xlLmNvbQ.174altifo5qfovrlh29ibv28ps&hs=121

4:00 PM to 5:00 PM

MS Boys' Basketball @ Hart

MS Athletics

4:30 PM to 7:00 PM

NBC Cafe Competitive Cheer Tryouts

NBC Middle School, 4700 Stanton Blvd, Montague, MI 49437, USA

HS Athletics

This event has a Google Hangouts video call. Join: https://hangouts.google.com/hangouts/_/mapsk12.org/raethk?hceid=bWFwc2sxMi5vcmdfOTg2b3Nmb20yY3BwdHRxOWd1cnVzNzhrNjBAZ3JvdXAuY2FsZW5kYXIuZ29vZ2xlLmNvbQ.3t65iuv5nq2btkgkqc8oue3cii&hs=121

7:00 PM to 9:00 PM

MHS Gym Basketball Tryouts

Montague High School, 4900 Stanton Blvd, Montague, MI 49437, USA

HS Athletics

This event has a Google Hangouts video call. Join: https://hangouts.google.com/hangouts/_/mapsk12.org/raethk?hceid=bWFwc2sxMi5vcmdfOTg2b3Nmb20yY3BwdHRxOWd1cnVzNzhrNjBAZ3JvdXAuY2FsZW5kYXIuZ29vZ2xlLmNvbQ.44hkqbj8bh2sg91a4d02rka2qr&hs=121

6

Nov 6

8:30 AM to 10:30 AM

Academic Awards

MHS Calendar

This event has a Google Hangouts video call. Join: https://hangouts.google.com/hangouts/_/mapsk12.org/gormand?hceid=bWFwc2sxMi5vcmdfNjF0bGl1dm8zaHNqbnNuNjJzYTUzaG5rMXNAZ3JvdXAuY2FsZW5kYXIuZ29vZ2xlLmNvbQ.0rtq233j9q89ichcorgs74lgc9&hs=121

4:30 PM to 7:00 PM

NBC Cafe Competitive Cheer Tryouts

NBC Middle School, 4700 Stanton Blvd, Montague, MI 49437, USA

HS Athletics

This event has a Google Hangouts video call. Join: https://hangouts.google.com/hangouts/_/mapsk12.org/raethk?hceid=bWFwc2sxMi5vcmdfOTg2b3Nmb20yY3BwdHRxOWd1cnVzNzhrNjBAZ3JvdXAuY2FsZW5kYXIuZ29vZ2xlLmNvbQ.3t65iuv5nq2btkgkqc8oue3cii&hs=121

7:00 PM to 9:00 PM

MHS Gym Basketball Tryouts

Montague High School, 4900 Stanton Blvd, Montague, MI 49437, USA

HS Athletics

This event has a Google Hangouts video call. Join: https://hangouts.google.com/hangouts/_/mapsk12.org/raethk?hceid=bWFwc2sxMi5vcmdfOTg2b3Nmb20yY3BwdHRxOWd1cnVzNzhrNjBAZ3JvdXAuY2FsZW5kYXIuZ29vZ2xlLmNvbQ.44hkqbj8bh2sg91a4d02rka2qr&hs=121

7

Nov 7

Early Release - All Buildings Release 1 Hour Early

District

This event has a Google Hangouts video call. Join: https://hangouts.google.com/hangouts/_/mapsk12.org/early-release?hceid=bWFwc2sxMi5vcmdfc2pxY3JpcjdvNG1uMXQyYTcxODJvNzRzYm9AZ3JvdXAuY2FsZW5kYXIuZ29vZ2xlLmNvbQ.7j3n900ktr37f0oai25q45r3p9&hs=121

4:00 PM to 5:00 PM

MS Boys' Basketball @ Home vs. MCC

MS Athletics

4:30 PM to 7:00 PM

NBC Cafe Competitive Cheer Tryouts

NBC Middle School, 4700 Stanton Blvd, Montague, MI 49437, USA

HS Athletics

This event has a Google Hangouts video call. Join: https://hangouts.google.com/hangouts/_/mapsk12.org/raethk?hceid=bWFwc2sxMi5vcmdfOTg2b3Nmb20yY3BwdHRxOWd1cnVzNzhrNjBAZ3JvdXAuY2FsZW5kYXIuZ29vZ2xlLmNvbQ.3t65iuv5nq2btkgkqc8oue3cii&hs=121

8

Nov 8

4:30 PM to 7:00 PM

NBC Cafe Competitive Cheer Tryouts

NBC Middle School, 4700 Stanton Blvd, Montague, MI 49437, USA

HS Athletics

This event has a Google Hangouts video call. Join: https://hangouts.google.com/hangouts/_/mapsk12.org/raethk?hceid=bWFwc2sxMi5vcmdfOTg2b3Nmb20yY3BwdHRxOWd1cnVzNzhrNjBAZ3JvdXAuY2FsZW5kYXIuZ29vZ2xlLmNvbQ.3t65iuv5nq2btkgkqc8oue3cii&hs=121

9

Nov 9

1:30 PM to 2:30 PM

3rd Grade Veterans Concert

Montague High School, 4900 Stanton Blvd, Montague, MI 49437, USA

RRO Calendar

This event has a Google Hangouts video call. Join: https://hangouts.google.com/hangouts/_/mapsk12.org/hedrickd?hceid=bWFwc2sxMi5vcmdfOGRtdGRkYzVwNmYzdW8zYjJqZ2tobmxlaTBAZ3JvdXAuY2FsZW5kYXIuZ29vZ2xlLmNvbQ.0550f7d8ujauva9p2puq0i8ecc&hs=121

1:30 PM to 2:30 PM

Veteran Days Concert

Center for the Arts at Montague High School, Montague, MI 49437, USA

MHS Calendar

This event has a Google Hangouts video call. Join: https://hangouts.google.com/hangouts/_/mapsk12.org/veteran-days?hceid=bWFwc2sxMi5vcmdfNjF0bGl1dm8zaHNqbnNuNjJzYTUzaG5rMXNAZ3JvdXAuY2FsZW5kYXIuZ29vZ2xlLmNvbQ.680ec1qsh6sa98bq2ikvs1uhm1&hs=121

10
11
12

Nov 12

3:30 PM to 5:30 PM

HS Cafeteria Wrestling Tryouts

Montague High School, 4900 Stanton Blvd, Montague, MI 49437, USA

HS Athletics

This event has a Google Hangouts video call. Join: https://hangouts.google.com/hangouts/_/mapsk12.org/raethk?hceid=bWFwc2sxMi5vcmdfOTg2b3Nmb20yY3BwdHRxOWd1cnVzNzhrNjBAZ3JvdXAuY2FsZW5kYXIuZ29vZ2xlLmNvbQ.4ecl5uom5vsp88r5ks4opipt6o&hs=121

3:30 PM to 6:00 PM

MHS Gym Girls Basketball Tryouts

Montague High School, 4900 Stanton Blvd, Montague, MI 49437, USA

HS Athletics

This event has a Google Hangouts video call. Join: https://hangouts.google.com/hangouts/_/mapsk12.org/raethk?hceid=bWFwc2sxMi5vcmdfOTg2b3Nmb20yY3BwdHRxOWd1cnVzNzhrNjBAZ3JvdXAuY2FsZW5kYXIuZ29vZ2xlLmNvbQ.7vei2tcl74s6cfdta180ehp1a2&hs=121

4:00 PM to 5:00 PM

MS Boys' Basketball @ Whitehall

MS Athletics

5:00 PM to 6:00 PM

Finance Committee Meeting

Central Office Conference Room

Board of Education

6:00 PM to 7:00 PM

Regular Board Meeting

MHS CAT Lab

Board of Education

13

Nov 13

8:00 AM to 9:00 AM

MHS Speaker Series

MHS Calendar

This event has a Google Hangouts video call. Join: https://hangouts.google.com/hangouts/_/mapsk12.org/gormand?hceid=bWFwc2sxMi5vcmdfNjF0bGl1dm8zaHNqbnNuNjJzYTUzaG5rMXNAZ3JvdXAuY2FsZW5kYXIuZ29vZ2xlLmNvbQ.142173lu7qdhd790fa5pnob34v&hs=121

3:00 PM to 4:00 PM

MHS Talent Show Rehearsal

MHS Calendar

This event has a Google Hangouts video call. Join: https://hangouts.google.com/hangouts/_/mapsk12.org/mhs-talent-show?hceid=bWFwc2sxMi5vcmdfNjF0bGl1dm8zaHNqbnNuNjJzYTUzaG5rMXNAZ3JvdXAuY2FsZW5kYXIuZ29vZ2xlLmNvbQ.2ls0r5rrsrq0juspicafmrj26n&hs=121

4:00 PM to 5:00 PM

MS Boys' Basketball @ Home vs. Oakridge

MS Athletics

14

Nov 14

Early Release - All Buildings Release 1 Hour Early

District

This event has a Google Hangouts video call. Join: https://hangouts.google.com/hangouts/_/mapsk12.org/early-release?hceid=bWFwc2sxMi5vcmdfc2pxY3JpcjdvNG1uMXQyYTcxODJvNzRzYm9AZ3JvdXAuY2FsZW5kYXIuZ29vZ2xlLmNvbQ.7j3n900ktr37f0oai25q45r3p9&hs=121

15

Nov 15

9:00 AM to 12:00 PM

Picture re-take day

RRO Calendar

This event has a Google Hangouts video call. Join: https://hangouts.google.com/hangouts/_/mapsk12.org/picture-re-take?hceid=bWFwc2sxMi5vcmdfOGRtdGRkYzVwNmYzdW8zYjJqZ2tobmxlaTBAZ3JvdXAuY2FsZW5kYXIuZ29vZ2xlLmNvbQ.1lc2rhk2fsoc52empfrum6d4ru&hs=121

6:00 PM to 7:00 PM

MHS Talent Show

Center for the Arts at Montague High School, Montague, MI 49437, USA

MHS Calendar

This event has a Google Hangouts video call. Join: https://hangouts.google.com/hangouts/_/mapsk12.org/mhs-talent-show?hceid=bWFwc2sxMi5vcmdfNjF0bGl1dm8zaHNqbnNuNjJzYTUzaG5rMXNAZ3JvdXAuY2FsZW5kYXIuZ29vZ2xlLmNvbQ.2m4llokceoi383o5in5cf8a4tm&hs=121

16

Nov 16

Deca State Leadership

MHS Calendar

This event has a Google Hangouts video call. Join: https://hangouts.google.com/hangouts/_/mapsk12.org/deca-state?hceid=bWFwc2sxMi5vcmdfNjF0bGl1dm8zaHNqbnNuNjJzYTUzaG5rMXNAZ3JvdXAuY2FsZW5kYXIuZ29vZ2xlLmNvbQ.4c3jgunfsl5ngdkkjn5nsdvg8l&hs=121

17

Nov 17

Deca State Leadership

MHS Calendar

This event has a Google Hangouts video call. Join: https://hangouts.google.com/hangouts/_/mapsk12.org/deca-state?hceid=bWFwc2sxMi5vcmdfNjF0bGl1dm8zaHNqbnNuNjJzYTUzaG5rMXNAZ3JvdXAuY2FsZW5kYXIuZ29vZ2xlLmNvbQ.4c3jgunfsl5ngdkkjn5nsdvg8l&hs=121

18

Nov 18

Deca State Leadership

MHS Calendar

This event has a Google Hangouts video call. Join: https://hangouts.google.com/hangouts/_/mapsk12.org/deca-state?hceid=bWFwc2sxMi5vcmdfNjF0bGl1dm8zaHNqbnNuNjJzYTUzaG5rMXNAZ3JvdXAuY2FsZW5kYXIuZ29vZ2xlLmNvbQ.4c3jgunfsl5ngdkkjn5nsdvg8l&hs=121

19

Nov 19

4:00 PM to 5:00 PM

MS Boys' Basketball @ N. Muskegon

MS Athletics

20

Nov 20

4:00 PM to 5:00 PM

MS Boys' Basketball @ Home vs. Ravenna

MS Athletics

21

Nov 21

No School - Thanksgiving Break

District

This event has a Google Hangouts video call. Join: https://hangouts.google.com/hangouts/_/mapsk12.org/no-school?hceid=bWFwc2sxMi5vcmdfc2pxY3JpcjdvNG1uMXQyYTcxODJvNzRzYm9AZ3JvdXAuY2FsZW5kYXIuZ29vZ2xlLmNvbQ.328b72m6ot9ftkp5bsa88frq0h&hs=121

22

Nov 22

No School - Thanksgiving Break

District

This event has a Google Hangouts video call. Join: https://hangouts.google.com/hangouts/_/mapsk12.org/no-school?hceid=bWFwc2sxMi5vcmdfc2pxY3JpcjdvNG1uMXQyYTcxODJvNzRzYm9AZ3JvdXAuY2FsZW5kYXIuZ29vZ2xlLmNvbQ.328b72m6ot9ftkp5bsa88frq0h&hs=121

23

Nov 23

No School - Thanksgiving Break

District

This event has a Google Hangouts video call. Join: https://hangouts.google.com/hangouts/_/mapsk12.org/no-school?hceid=bWFwc2sxMi5vcmdfc2pxY3JpcjdvNG1uMXQyYTcxODJvNzRzYm9AZ3JvdXAuY2FsZW5kYXIuZ29vZ2xlLmNvbQ.328b72m6ot9ftkp5bsa88frq0h&hs=121

24
25
26

Nov 26

4:00 PM to 5:00 PM

MS Boys' Basketball @ Home vs. Hart

MS Athletics

27

Nov 27

5:30 PM to 7:00 PM

Boys JV BBall vs Fruitport

Fruitport High School, 357 N 6th Ave, Fruitport, MI 49415, USA

HS Athletics

This event has a Google Hangouts video call. Join: https://hangouts.google.com/hangouts/_/mapsk12.org/mapsk12-org-986?hceid=bWFwc2sxMi5vcmdfOTg2b3Nmb20yY3BwdHRxOWd1cnVzNzhrNjBAZ3JvdXAuY2FsZW5kYXIuZ29vZ2xlLmNvbQ.1p47ga6b1gqgtf9is2u7h5oci9&hs=121

7:00 PM to 8:30 PM

Boys Varsity BBall vs Fruitport

Fruitport High School, 357 N 6th Ave, Fruitport, MI 49415, USA

HS Athletics

This event has a Google Hangouts video call. Join: https://hangouts.google.com/hangouts/_/mapsk12.org/mapsk12-org-986?hceid=bWFwc2sxMi5vcmdfOTg2b3Nmb20yY3BwdHRxOWd1cnVzNzhrNjBAZ3JvdXAuY2FsZW5kYXIuZ29vZ2xlLmNvbQ.7v2k0ng4gjgss8k1too3vtqv0d&hs=121

28

Nov 28

Early Release - All Buildings Release 1 Hour Early

District

This event has a Google Hangouts video call. Join: https://hangouts.google.com/hangouts/_/mapsk12.org/early-release?hceid=bWFwc2sxMi5vcmdfc2pxY3JpcjdvNG1uMXQyYTcxODJvNzRzYm9AZ3JvdXAuY2FsZW5kYXIuZ29vZ2xlLmNvbQ.7j3n900ktr37f0oai25q45r3p9&hs=121

4:00 PM to 5:00 PM

MS Boys' Basketball @ Home vs. Shelby

MS Athletics

29

Nov 29

2:00 PM to 3:30 PM

1st Grade Parent Day

gym

RRO Calendar

This event has a Google Hangouts video call. Join: https://hangouts.google.com/hangouts/_/mapsk12.org/hedrickd?hceid=bWFwc2sxMi5vcmdfOGRtdGRkYzVwNmYzdW8zYjJqZ2tobmxlaTBAZ3JvdXAuY2FsZW5kYXIuZ29vZ2xlLmNvbQ.6nvngo3caarik3kdrurcr14jm0&hs=121

30

Nov 30

1:00 PM to 2:00 PM

Nutcracker Assembly

MHS Calendar

This event has a Google Hangouts video call. Join: https://hangouts.google.com/hangouts/_/mapsk12.org/nutcracker?hceid=bWFwc2sxMi5vcmdfNjF0bGl1dm8zaHNqbnNuNjJzYTUzaG5rMXNAZ3JvdXAuY2FsZW5kYXIuZ29vZ2xlLmNvbQ.1tttb3c48bp5n271aatrfm3ucn&hs=121

6:00 PM to 7:30 PM

Boys JV BBall vs Hart

Hart High School, 300 Johnson St, Hart, MI 49420, USA

HS Athletics

This event has a Google Hangouts video call. Join: https://hangouts.google.com/hangouts/_/mapsk12.org/raethk?hceid=bWFwc2sxMi5vcmdfOTg2b3Nmb20yY3BwdHRxOWd1cnVzNzhrNjBAZ3JvdXAuY2FsZW5kYXIuZ29vZ2xlLmNvbQ.2mhpf5ggu7fg85djie2s8p4grt&hs=121

7:30 PM to 9:00 PM

Varsity Boys BBall vs Hart

Hart High School, 300 Johnson St, Hart, MI 49420, USA

HS Athletics

This event has a Google Hangouts video call. Join: https://hangouts.google.com/hangouts/_/mapsk12.org/raethk?hceid=bWFwc2sxMi5vcmdfOTg2b3Nmb20yY3BwdHRxOWd1cnVzNzhrNjBAZ3JvdXAuY2FsZW5kYXIuZ29vZ2xlLmNvbQ.15ah2u5vhqijal7ok7o734eqnh&hs=121
MAPS News
November 15, 2018
50th Day of School
How do we celebrate the 50th day of school? We celebrate it by hosting a 50's themed Sock Hop!
November 14, 2018
Academic Awards at MHS
This fall, 141 high school students in grades 10-12 earned academic awards. In order to qualify, a student has to have earned a 3.4 or higher average both semesters during the previous year of school at MHS.
November 13, 2018
Football Playoffs
The Division 6 semi-finals vs. Traverse City St. Francis will take place this Saturday, November 17, at 1:00 p.m. at Mt. Pleasant High School.  Tickets will be on sale in the high school office on Friday, 7:00 a.m. - 1:00 p.m. All tickets are $7.
November 6, 2018
Superintendent's Message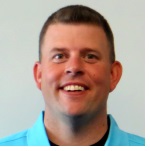 Montague Area Public Schools is an outstanding school system with dedicated students, highly qualified staff, administration, Board of Education, parents, and community committed to providing the best educational programs.
November 1, 2018
Thanksgiving Break
Students will have three days off for Thanksgiving Break this year. School will not be in session Wednesday, November 21 - Friday, November 23.
Mission Statement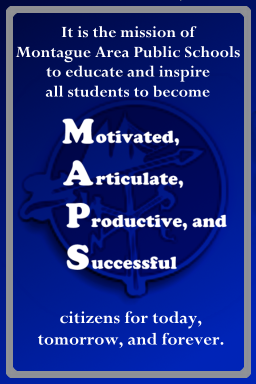 MAPS


MACC


RRO


NBC


MHS


2016 CTE Core Performance Indicators



Annual Reports
Annual Reports, 2014-2015: