Welcome to Nellie B. Chisholm Middle School
‹

February

2017

›

S
M
T
W
T
F
S
1
2

Feb 2

4:00 PM to 6:00 PM

MS Wrestling @ Shelby

Shelby

MS Athletics

3
4
5
6
7

Feb 7

4:00 PM to 6:00 PM

MS Volleyball vs. Mason County @ Home

Home

MS Athletics

8

Feb 8

Early Release: All Buildings Release 1 Hour Early

District

7:00 PM to 9:00 PM

NBC Talend Show

MHS Auditorium

NBC Calendar

9

Feb 9

4:00 PM to 6:00 PM

MS Volleyball vs. Hart @ Hart

Hart

MS Athletics

4:00 PM to 6:00 PM

MS Wrestling @ Home

Home

MS Athletics

10

Feb 10

3:00 PM to 5:30 PM

11
12
13
14

Feb 14

4:00 PM to 6:00 PM

MS Volleyball vs. Shelby @ Home

Home

MS Athletics

4:00 PM to 6:00 PM

MS Wrestling @ Whitehall

Whitehall

MS Athletics

15

Feb 15

Early Release: All Buildings Release 1 Hour Early

District

16

Feb 16

4:00 PM to 6:00 PM

MS Volleyball vs. N. Muskegon @ N. Muskegon

N. Muskegon

MS Athletics

17

Feb 17

1/2 Day All Students - Mid-Winter Break

District

1/2 DAY OF SCHOOL

NBC Calendar

18
19
20

Feb 20

No School - Mid-Winter Break

District

21

Feb 21

4:00 PM to 6:00 PM

MS Volleyball vs. Ravenna @ Home

Home

MS Athletics

22

Feb 22

Early Release: All Buildings Release 1 Hour Early

District

23

Feb 23

4:00 PM to 6:00 PM

MS Volleyball vs. Oakridge @ Oakridge

Oakridge

MS Athletics

4:00 PM to 6:00 PM

MS Wrestling @ Home

Home

MS Athletics

24
25

Feb 25

9:00 AM to 3:00 PM

MS Wrestling Tournament at MHS

Montague High School

MS Athletics

26
27

Feb 27

6:00 PM to 7:00 PM

Regular Board Meeting

MHS CAT Lab

Board of Education

28

Feb 28

4:00 PM to 6:00 PM

MS Volleyball vs. Whitehall @ Home

Home

MS Athletics
January 27, 2017
Plug In To PowerSchool
 NBC Middle & High School Parents - You could win a $50 Wesco gift card if you PlugIn to PowerSchool by February 28! See the contest details to learn more! 
01/11/2017
Robocats Earn Innovate Award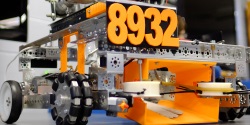 NBC students under the direction of Tom Hinken competed in the FTC First Tech Challenge robotics competition December 3 in Allendale--and came back with an important award.
Progress reports
Progress reports went home with students on February 23, 2017. The end of the marking period is March 25, 2017.
Yearbook Order Forms
Yearbook order forms will be sent home with Students, January 16th. There are instructions on how to order on line or by mail. You may also send the order from with cash or check to the NBC office. Please make checks to Geskus. ORDER FORMS MUST BE COMPLETE WITH PAYMENT WHEN ORDERING.
Please click on the link below for yearbook order forms.