Welcome to Mrs. Wood's classroom!
If you can walk you can dance. If you can talk, you can sing.
~Zimbabwe proverb~
Music is a skill that will stay with your child throughout life. I hope to instill the love and joy of music in each child at Oehrli Elementary.

Click here to listen to Damara and Chase play the Montague Fight Song.
Recorders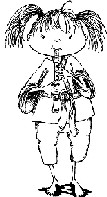 Students at RRO begin learning how to play recorder in 3rd grade.
Each student will purchase their own personal recorder.
Here are some fun music links
Make your own instruments with the New York Philharmonic website.
Explore sound: