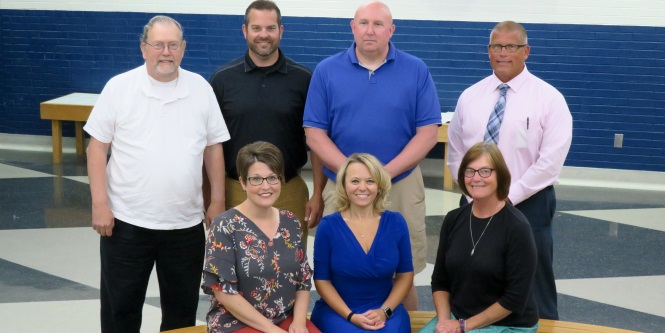 MAPS Board of Education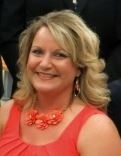 Chris Stark, President.
Current Term--2015-2020
Mrs. Stark is a life long Montague area resident. She and her family live in White River Township. A graduate of Montague High School, she is serving her third term on the Board. Mrs. Stark is employed by Grand Rapids Ophthalmology as a Compliance and Credentialing Coordinator. Regarding her school years she said, "I received an outstanding education in Montague schools." Mrs. Stark's goal as a Board member is to work to ensure that all children receive quality instruction in school. The Starks have two children. As a parent and Board member, she wants the best possible education for them, too. She has been appointed to serve on the Board's Employee/Community Relations and Policy Committees.
Michael Moore, Vice President
Current Term -- 2017-2022
Mr. Moore has lived in Montague for most of his life outside of college and a brief period on the east side of the state. He currently lives in White River Township with his family. Mike is a graduate of Montague Schools and stated that his experiences were nothing short of outstanding. These experiences were so fond, he wanted nothing less for his own children who currently attend MAPS. He has been employed by West Shore Community College as the Director of Recreational Services for the past decade where he oversees two facilities, their staff, programs, and budgets. Mike has a Master's Degree in Educational Leadership. He feels there is nothing more important to an individual and community than providing a quality education, which all the families in this community deserve. This is what helps define MAPS. He is very involved in his children's lives, and their education is on the top of his list of things to be involved with. When asked why he wanted to run for MAPS School Board, he said it was because of his passion for being involved, never settling for the status quo, and always wanting to learn.
Cindy Francis, Secretary
Current Term--2019-2024
Mrs. Francis is a local business woman who, with her husband, operates Montague Tree Farms. She has a Bachelor of Science in Horticulture from MSU. She was elected to her first term in 1997, and has served ever since. She is currently Board Secretary. She, as well as her three children, graduated from Montague, and now has two grandchildren in the district. Cindy believes a school district is the heart of a community, and that providing a quality education for all is the best thing a society can do for its people. Both the staff and facilities at Montague are something we all can be proud of. Mrs. Francis serves on the Employee-Community Relations, Finance, and Joint Montague/Whitehall committees.
Blair Moreau, Treasurer
Current Term--2017-2022
Mr. Moreau is a firm believer in quality education. He feels that MAPS offers that education with it's highly qualified and engaged administrative, teaching and support staff; and this is something he wants to be part of. He wants to be a role model to his children and show them it is important to be involved in their community and give back to the community in which they live. Mr. Moreau moved to Montague in 1996. He is married to Amy Moreau, and they have three children. He has been employed at Mercy Health Partners for 21 years and is currently the H.E.A.R.T. Center Manager. Mr. Moreau received his Master of Science degree in Administration from Central Michigan University in 2007 and a Bachelor of Science from Central Michigan University in Exercise Physiology in 1987. He is certified with American College of Sports Medicine as a Certified Clinical Exercise Specialist and is a member of ACSM, AACVPR. He is serving on the Finance committee. Mr. Moreau's mantra is: Education is life long, never stop wanting to learn something new.
Scott Beishuizen, Trustee
Current Term--2015-2020
Mr. Beishuizen is serving his first term on the Board. He is very impressed with the quality of education the Montague Public School system delivers to its students. He feels we have a very dedicated and qualified staff that pours their hearts into each and every one of the students. Mr. Beishuizen has lived in the Montague area his whole life and graduated from Western Michigan Christian High School. He lives in Rothbury with his wife and four daughters, and is currently the Rothbury Village President. Scott is employed by the City of Montague as the Foreman for the Department of Public Works where he has worked for the past 17 years.
Tom Johnson, Trustee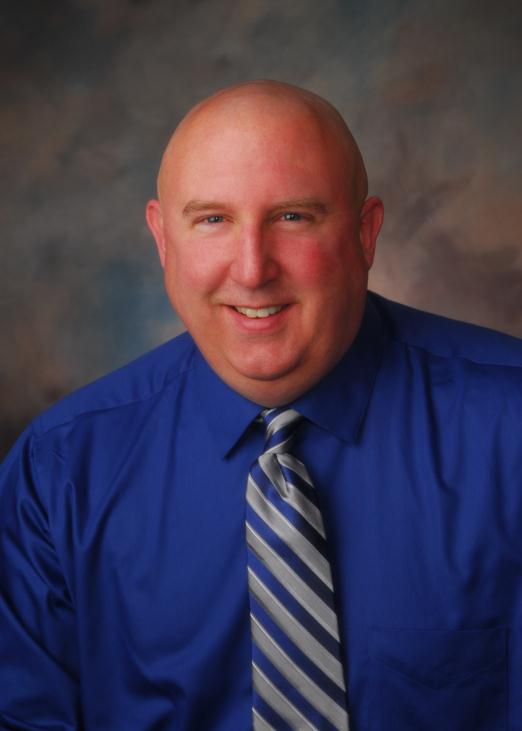 Current Term--2019-2024

Mr. Johnson is serving his second term on the Board. Mr. Johnson believes the future lies within the children of our community. He would like to do his part in creating an excellent environment for our children to live, learn, and grow in education so that today's children will live full and meaningful lives in hopes that they will in return help the next generation of children. Mr. Johnson is a veteran of the United States Air Force, and has a degree in Criminal Justice. He has been in law enforcement for nearly 23 years, with 15 of those years as a Deputy with the Muskegon County Sheriff's Office. Tom is actively involved in White Lake Youth Sports, and he currently has two children attending Montague Area Public Schools.
Amanda Unger, Trustee
Current Term--2017-2022
Mrs. Amanda Unger is new to the Montague area and happy to make it her home with her children and husband, Mark. She has spent her whole career working in education, first as a teacher and coach, and now as an administrator. She has a Bachelor's and Master's degree from Ferris State University where she majored in Elementary Education and Curriculum and Instruction along with Special Education, a Master's degree from Grand Valley State University in General and Special Education Administration, and she will be graduating in May of 2017 from Michigan State University with a Doctorate in K12 Administration with Central Business Office Certification. Mrs. Unger is excited to serve the community on the MAPS Board and make sound decisions that work to benefit all students.